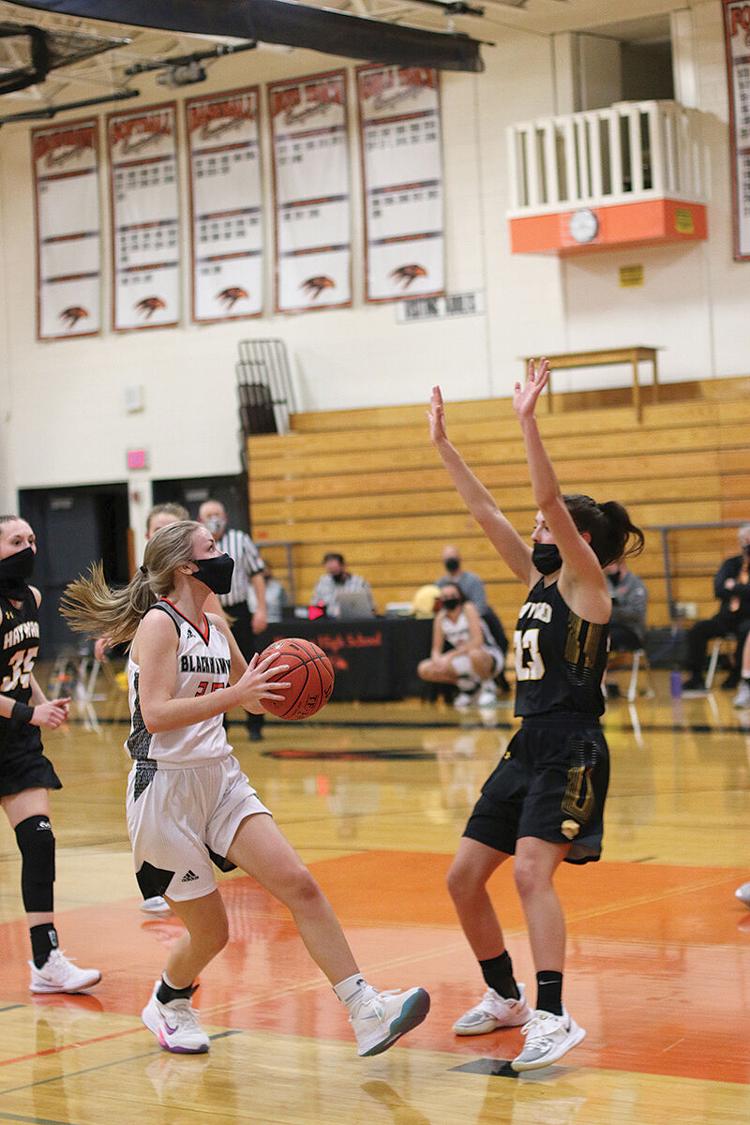 The Bloomer Blackhawks girls basketball team posted a couple of big wins last week against Cumberland and Hayward.
On Tuesday night, Jan. 5, in Cumberland the Ladyhawks beat the Beavers 57–47. Then playing at home Thursday night, Jan. 7, the Bloomer girls beat the Hayward Hurricanes 47–37.
In Cumberland on Tuesday, Bloomer took a four point lead into the locker room at the half, leading 26 to 22 and came out to score 31 more points in the second period to win 57–45. The Ladyhawks shot 57 percent at the free throw sinking 15 out of 26 shots.
Freshman Danielle Latz was the top scorer for Bloomer with 13 points followed by junior Paige Jacobs with 10. Senior Leah Score put nine points on the board, senior Kyla Schwarzenberger scored six points, juniors Karisa Petska, Madison Fashingbauer and Abby Iverson and sophomore Bella Seibel each scored four points and senior Skylar Zwiefelhofer scored three points to round out the scoring for Bloomer.
At home on Thursday, the Ladyhawks started out strong leading by 11 points at the half. They shot 50 percent on field goals and 85 percent at the free throw line. They struggled a little in the second half but still put 20 points on the board, including making four out of five free throws, to win by 10 points, 47–37.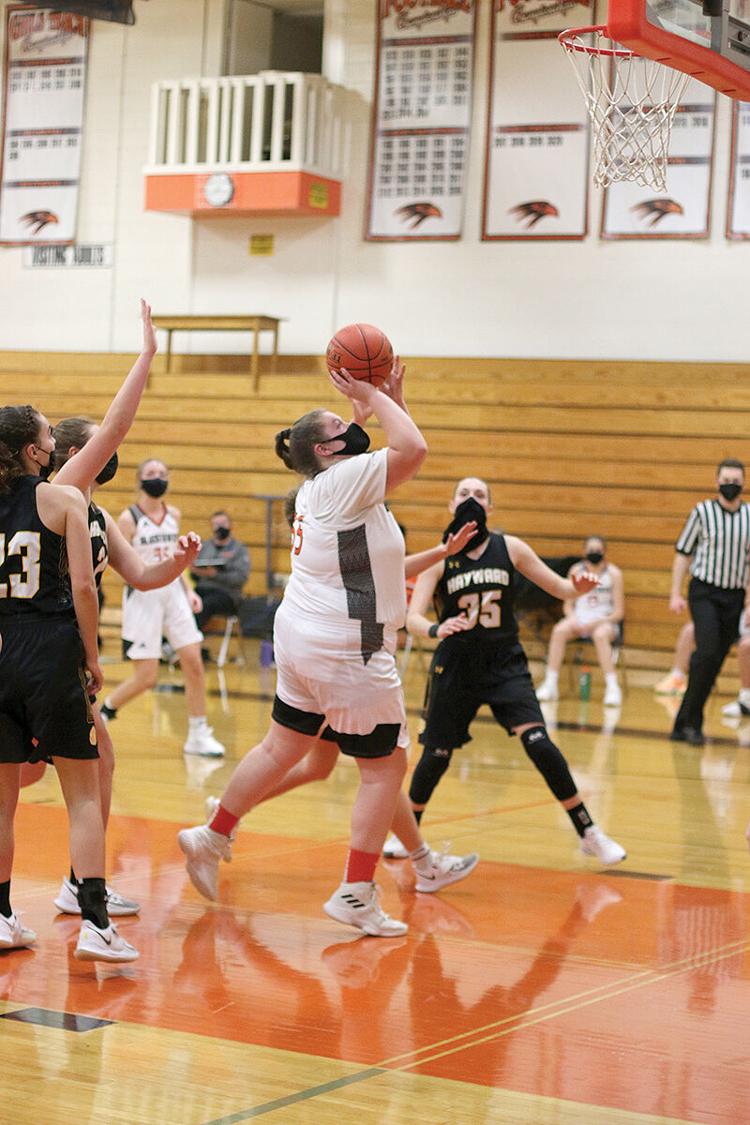 Score led Bloomer on Thursday night with 13 points including sinking three out of six 3-point shots. Iverson was also hot, making five out of 10 field goals and sinking two free throws in two attempts for 12 points. Bella Seibel scored nine points, Latz scored six, Faschingbauer had three and Schwarzenberger and Zwiefelhofer each had two points for the Ladyhawks.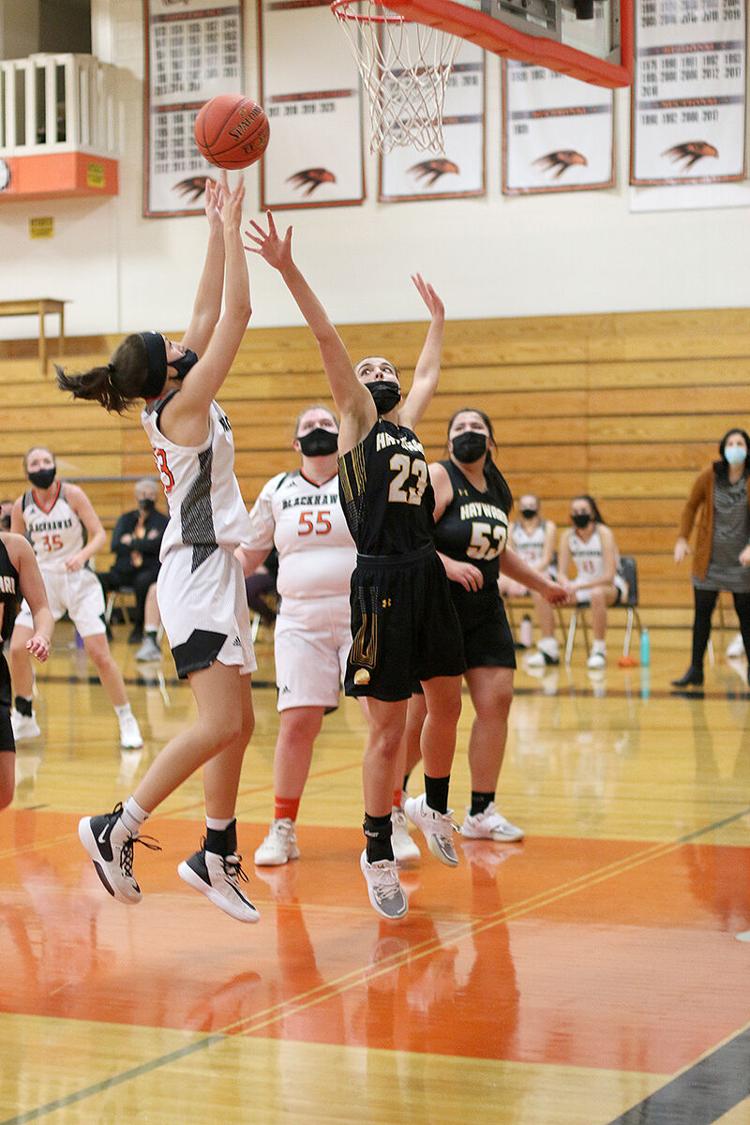 Bloomer's game against Spooner on Friday night, Jan. 8 was postponed. The Ladyhawks played at St. Croix Falls on Monday, Jan. 11. They are scheduled to play in Ladysmith on Thursday, Jan. 14, at home against St. Croix Falls on Saturday, Jan. 16, and in Chetek on Monday, Jan. 18 against Chetek-Weyerhauser.
Bloomer 57, Cumberland 45
Maisen Gores 15, Mecina Garibaldi 10, Anna Ranallo 7, Orion Thompson 6, Faith Mathison 4, Maya Brenna 3. (FGM-FGA, FTM-FTA TP) 14-51, 14-23, 45.
Danielle Latz 13, Paige Jacobs 10, Leah Score 9, Kyla Schwarzenberger 6, Karissa Petska 4, Madison Faschingbauer 4, Abby Iverson 4, Bella Seibel 4, Skylar Zwiefelhofer 3. (FGM-FGA, FTM-FTA TP) 19-63, 15-26, 57.
3-point goals: Bloomer 4-18 (Skylar Zwiefelhofer 1, Paige Jacobs 1, Bella Seibel 1, Leah Score 1.) Cumberland 3-17. Turnovers: Bloomer 24, Cumberland 37. Rebounds: Bloomer 44 (20-24), Cumberland 45. Steals: Bloomer 16, Cumberland 5. Assists: Bloomer 13, Cumberland 9.
Holly Miller 15, Brooke Quast 7, Ana Johnson 6, Maekayla Cadotte 5, Mikailah Kosterman 2, Allie Zawistowski 2. (FGM-FGA, FTM-FTA TP) 11-51, 13-25, 37.
Leah Score 13, Abby Iverson 12, Bella Seibel 9, Danielle Latz 6, Madison Faschingbauer 3, Skylar Zwiefelhofer 2, Kayla Schwarzenberger 2. (FGM-FGA, FTM-FTA TP) 16-44, 10-12, 47.
3-point goals: Bloomer 5-13 (Leah Score 3, Madison Faschinbauer 1, Bella Seibel 1.) Hayward 2-15. Turnovers: Bloomer 18, Hayward 8. Rebounds: Bloomer 43 (13-30), Hayward 32 (14-18). Steals: Bloomer 4, Hayward 9. Assists: Bloomer 9, Hayward 3.