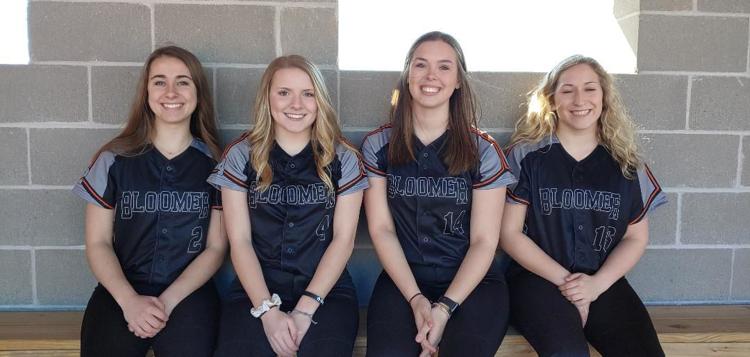 Part four of our series on the senior athletes of the Bloomer High School spring sports teams features four seniors on the softball team.
Sammy Buchholtz played center field. She hit .435 last year and led the team with 39 runs scored and 20 stolen bases. She was named to second team all-conference outfielder in 2019.
Her Favorite softball memory was winning the 2019 sectional semi final game 1-0 over conference rival Northwestern. When asked what she missed most about not playing ball this season she said, "The bus rides and how close we grew as team throughout the season."
Sammy plans on attending UW–Stout with an undecided major.
Shantelle Ruf played right field. Shantelle batted .315 last year and led the team with four homeruns. She was chosen honorable mention all-conference outfielder in 2019.
Her Favorite softball memories were her first varsity home run which hit the top of the left field fence and bounced over. Also doing a face plant chasing a flyball in practice. When asked what she missed most about not playing ball this season she said, "The interaction and having fun everyday with my teammates, as well as the "high" you get after playing in an intense game."
Shantelle plans on attending Winona State University majoring in Nursing and Child Advocacy Studies.
Annabelle Wittrock played catcher, outfield, and corner infield. Annabelle batted .310 last season and was second on the team with eight doubles.
Annabelle's Favorite softball memory was hitting a walk off double vs Elk Mound after the team had blown two five run leads. When asked what she missed most about not playing ball this season she said, "Goofing around and having fun with teammates."
Annabelle plans on attending UW Eau Claire to major in Biomedical Engineering.
Ashley Poirier played infield and outfield. Ashley batted .333 last season and was third on the team with .482 on base percentage. She was chosen honorable mention all-conference infielder in 2019.
Ashley's favorite softball memory was hitting a two out, two run, walk off single in the bottom of the 11th inning to beat Northwestern 4-3. After 10 scoreless innings, NW scored three times in the top of the 11th before Bloomer rallied back for four runs in the bottom of the inning to steal the win and put us on track to win our fourth straight HON softball title. When asked what she missed most about not playing ball this season she said, "The memories we have made and would have made this season. Seeing my teammates every day. The adrenaline rush from making good plays and winning close games. And beating Cumberland every time we played them."
Ashley plans on attending UW La Crosse and studying Criminal Justice, psychology and sociology.
As coach I cannot express the gratitude we have for the two seasons they have given the program and the disappointment we feel because we did not get a chance to coach this group for their senior year. They came into a program that was set up to let them grow on JV for a couple years, but injuries during their sophomore year to a couple key varsity players forced them onto the stage early. They never blinked. They accepted their roles and we continued on to another conference championship with this group in the fold. They stepped into larger roles as juniors as all four became full time starters. All of them learning new positions, all of them accepting their roles, and by the season's end growing into seasoned veterans who could be depended on daily. The team went on to our fourth straight HON title and played in a sectional final game.
This season, the two outfielders Sammy and Shantelle would have been back into the same positions as last year which would have given us a great outfield. Both began last year without a full time position per say, but by the end of the year locked down two of the most important positions in our defense. Both athletic and fearless in big games. They brought energy and intensity to the dugout.
Annabelle had always been a catcher before her varsity career. Once here, she played behind a three year starter and this would have been her first varsity season as our number one catcher. She adapted well to multiple positions. Always a good hitter she grew into a good defender. She has a great arm, is extremely intelligent, and we believe would have been an outstanding catcher for us this season.
Ashley is a versatile player also. She played six different positions over two seasons. Like the other three, an ultimate team player. Ashley also played behind a three year starter at second base and this would have been her year to start full time at that position. She never missed a chance to play fall ball, winter ball, travel ball or open gym. A one sport athlete who worked year round for the season ahead. She has a knack for being clutch at the plate in some of our biggest games.
When I describe this group, I can do it with two words, "ball players." In our program this is the ultimate compliment. They came to us having a wealth of experience from youth and travel ball. They had a great group of coaches at a young age which prepared them to help us at multiple positions right away. If any younger players can take anything away for this group, it's learn to play multiple positions, understand the game, and just play ball no matter where the coach puts you on the field or in the lineup. These four lived that. Full speed. No regrets.
We as a staff were really looking forward to what this season was going to be and the chance for these four to leave their final stamp on the Bloomer Blackhawk Softball Program. Instead we were dealt a hand in which we could not play a game, have a practice, or even a team meal. That will not take away what they have accomplished and who they have become. Good players. Better kids. Great teammates. A pleasure to have on our team. We as coaches in Bloomer are blessed to have student athletes like these four.
It is up to us as coaches to use their loss of a season as motivation and inspiration for all future athletes and ourselves. If we do that, then this spring is not a just a waste of an opportunity, but a building block for future success. Play hard. Play fast. Have fun.