The Bloomer Blackhawks softball team added two more wins to their record last week.
On Tuesday, April 23 in Hayward the Blackhawks beat the Hurricanes 11–1 in five innings, but on Thursday, April 25 it took them 11 innings—10 of them scoreless—to beat Northwestern 4–3.
In Hayward on Tuesday, Bloomer jumped out to a 4–0 lead after the first inning and went on to score another five runs in the top of the third. Both teams came up empty in the forth inning before the Blackhawks put up another two runs in the top of the fifth. Hayward was able to put one run on the board in the bottom of the fifth but it wasn't enough to keep the game alive which ended by the 10 run rule.
Emily Kuehl pitched two innings allowing one hit and striking out two batters. Calley Olson pitched three innings with no hits, no runs and struck out five batters. Trinity Grey pitched zero innings allowing one hit, one run and walking two batters.
At the plate Rilee Luzinski went 3x4 with one run and five RBIs. Kenadi Poirier 2x4 and Olson 2x3 each scored two runs and an RBI. Olson also stole two bases. Five more Bloomer batters got a hit during the game. Annabelle Wittrock, Isabella Jenneman, Kuehl and Olson all hit doubles. Wittrock and Ashley Poirier were both hit by a pitch twice during the five innings of play.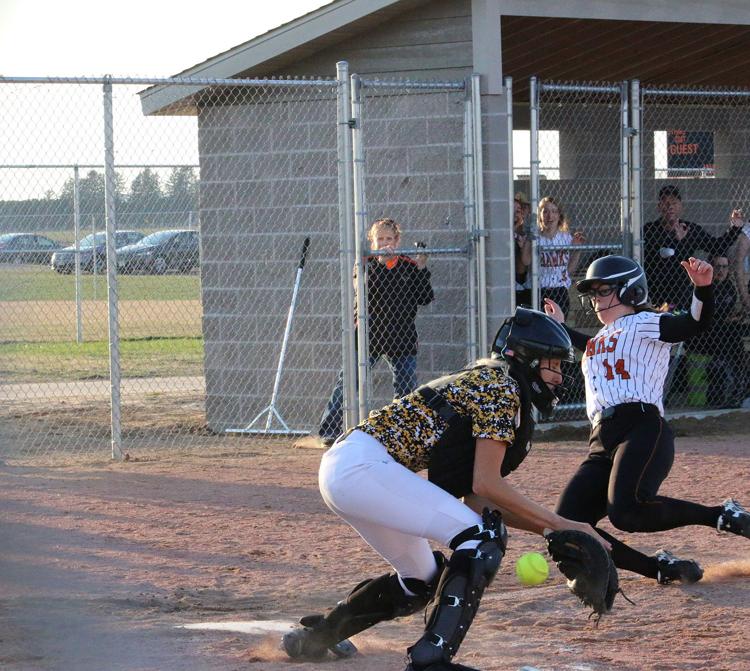 On Thursday, the Blackhawks went up against an evenly matched Northwestern Tigers team. Both teams went scoreless through 10 innings. In the top of the 11th inning the Tigers put the first runs on the board bringing three players home. But, as the home team, Bloomer got last at bats and was able to score four runs.
Kuehl pitched all 11 innings for Bloomer allowing nine hits and three runs while striking out seven batters and walking none.
At the plate Olson went 3x5 with one run; A. Poirier 2x4 with two RBIs; Wittrock 1x4 with one run and one RBI; Sammy Buchholtz 1x4 with a run; K. Poirier 1x4; and Jenneman 1x5.
Bloomer is scheduled to play at Ladysmith on Thursday, May 2, host a tournament on Saturday, May 4, play McDonell Central at home on Monday, May 6 and Barron at home on Tuesday, May 7.
Bloomer....405 02 – 11 12 0
WP: Emily Kuehl (2IP, 1H, 0R, 0ER, 0BB, 2K).
Pitching: Calley Olson (3IP, 0H, 0R, 0ER, 0BB, 5K), Trinity Grey (0IP, 1H, 1R, 1ER, 2BB, 0K).
Hitting: Kenadi Poirer 2x4 (2 Runs, RBI, 2 TBs), Sammy Buchholtz 1x3 (2 Runs, RBI, TB, Sac, SB), Rilee Luzinski 3x4 (Run, 5 RBIs, 3 TBs), Emily Kuehl 1x3 (Run, RBI, 2B, 2 TBs), Isabella Jenneman 1x4 (K, 2B, 2 TBs,), Calley Olson 2x3 (2 Runs, RBI, 2B, 3 TBs, 2 SBs), Trinity Grey 0x0, Annebelle Wittrock 1x1 (Run, 2B, 2 TBs, 2 HBPs, SB), Lizzy Anderson 0x1, Kylee Sedlacek 1x1 (RBI, BB, TB), Shantelle Ruf 0x1, Ashley Poirer 0x1 (2 Runs, RBI, 2 HBPs).
Bloomer 4, Northwestern 3
Northwestern..000 000 000 03– 3 9 3
Bloomer..........000 000 000 04– 4 9 1
WP: Emily Kuehl (11IP, 9H, 3R, 3ER, 0BB, 7K).
Hitting: Kenadi Poirer 1x4 (BB, K, TB), Sammy Buchholtz 1x4 (Run, TB, Sac), Rilee Luzinski 0x5, Emily Kuehl 0x5(Run), Isabella Jenneman 1x5 (2 K, TB), Calley Olson 3x5 (3 TBs, SB), Annebelle Wittrock 1x4 (Run, RBI, K, TB, Sac), Shantelle Ruf 0x5, Ashley Poirer 2x4 (RBI, 2 TBs, HBP).