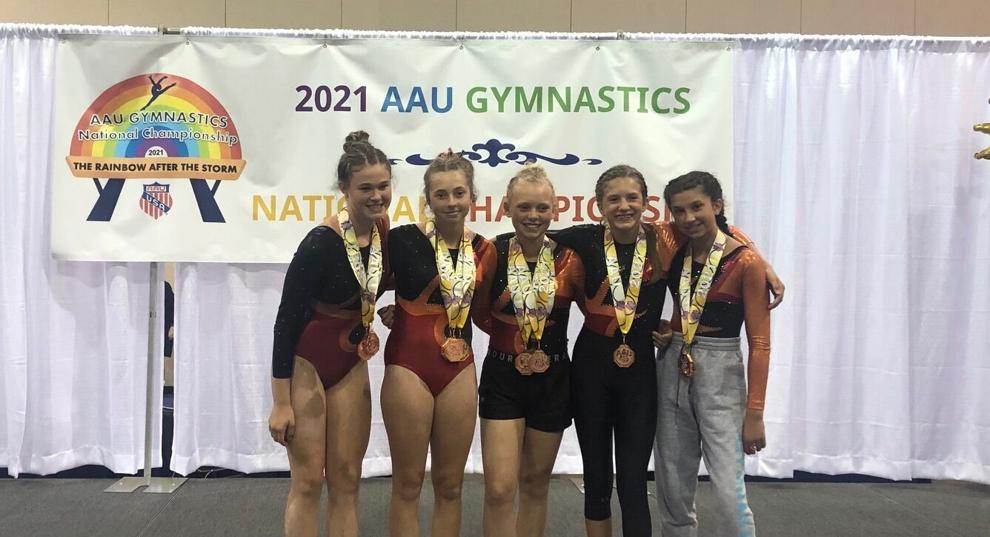 On Sunday, June 25, 2021, five Phoenix gymnasts took on competitors nationwide to compete at the AAU National meet held at the Savannah Convention Center in Savannah, Georgia. The girls competed against the gyms from across the country. 
Trina Pyka, Xcel Gold, age 13 and Kendra McElroy, JO Level 6, age 12 were the first Phoenix competitors on Sunday morning competing consecutively in gyms A and B. Trina Pyka ended her season as the 11th place all-around gymnast in the Xcel Gold age 13–14 division. Kendra McElroy had a fifth place finish on the vault and ended the season as the 10th place all-around gymnast in the JO Level 6 division. 
Celina Hess, Taylor Revoir and Lauren Ruff competed in the afternoon session in the JO Level 7 group. Celina Hess competed in the age 13–14 division and placed third on vault, fourth on bars and tied for sixth on beam. As an all-around gymnast Celina tied for fourth in the nation in the JO Level 7 ages 13–14 division. Lauren Ruff and Taylor Revoir both competed in the JO Level 7 age 15–16 division. They placed individually on the vault and beam and finished in the top 10 as all-around gymnasts Individual results were as follows: Revoir, sixth on vault, tied for fourth on beam with an all-around placement in eighth. Ruff fourth on vault and sixth on beam with an all-around placement in 10th.
Their trip wasn't all work and included several days of fun including Tybee Island Beach, the Savannah town trolley and an evening of ghost hunting. A big shout out to Coach Shanna McMullin, Coach Mark McElroy, Chad the Dad for all the great meals and to all the parents that made this trip possible. The 2022 season kicks off in August as practices resume. Those interested in joining the Phoenix gym can contact Coach McMullin at 715-226-2551 or watch the Phoenix Gymnastics Club Facebook page for more details. 
Both competitive and non-competitive tracks are available along with beginner, ninja and fitness classes. Come join the fun!