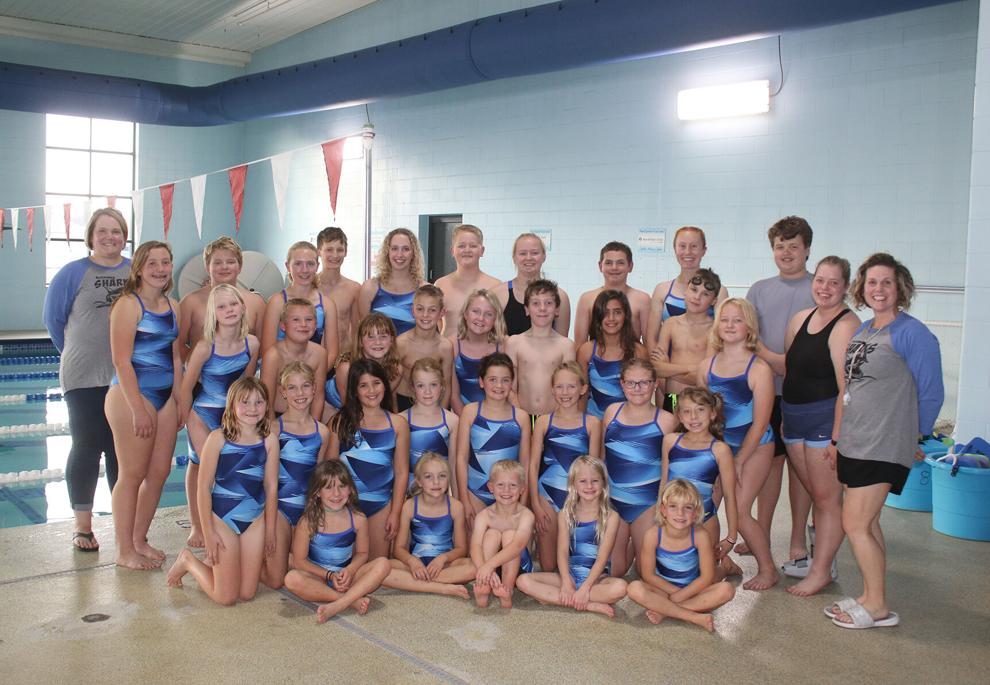 Bloomer has finally done it; a swim club to go along with the amazing indoor aquatic facility. The Bloomer Sharks are headed by Coach Michelle Stolt and Assistant Coach Wendy Bromberek. 
Stolt, who is an employee of the Bloomer Aquatic Center with a passion for swimming, saw a need for a club during Covid. With the pool being able to safely social distance and start offering classes with small sizes, she began to see kids wanting to be involved and started a pre-swim team.
As the world started to open kids were still eager to swim and wanted to compete. With the help of aquatic director, Justin Kunsman and facility director, Rod Turner, Stolt and Bromberek reached out to the Northern Lakes Aquatic Club and found a conference to be part of.
The Bloomer Swim Club is not just for Bloomer kids, it is for anyone ages 6-18 from anywhere. The team currrently has 34 swimmers from Bloomer, Colfax and Chetek. 
"Swimming is a sport for all walks of life. It is a life sport. The low impact and high endurance is a great work out. Starting the team and seeing the kids get stronger and faster week after week makes me a proud coach. More importantly listening to the kids tell me how good they feel and how confident they are becoming in their own skin in their other sports: gymnastics, basketball, football and baseball makes me a proud human being," said Coach Stolt.
We want to say thank you to our sponsors. We were able to get team suits, shirts and towels. The kids feel like thy are apart of something.
Justin Kunsman, Aquatic Director said, "We have always wanted our own swim club, but we just didn't have the right people in place until now. Coach Stolt has done great things in the last five years to grow our lessons program so when she asked, the answer was yes. She loves the aquatic center and has the ability and qualifications to make the swim club successful."
"We hope to grow and continue to support our great community," said Kunsman.
 If you would like to cheer on the Bloomer Sharks Swim Team here is are the meets they will be competing at: Nov. 27 at Rice Lake, Dec. 4 in Philips, Dec. 18 in Ladysmith, Jan. 15, 2022 in Antigo and Jan. 22 in Black River Falls. 
If you would like to support the team locally the proceeds from the Fish Fry on Friday, Nov. 19 at the Bloomer Moose Lodge goes to the Bloomer Swim Club.