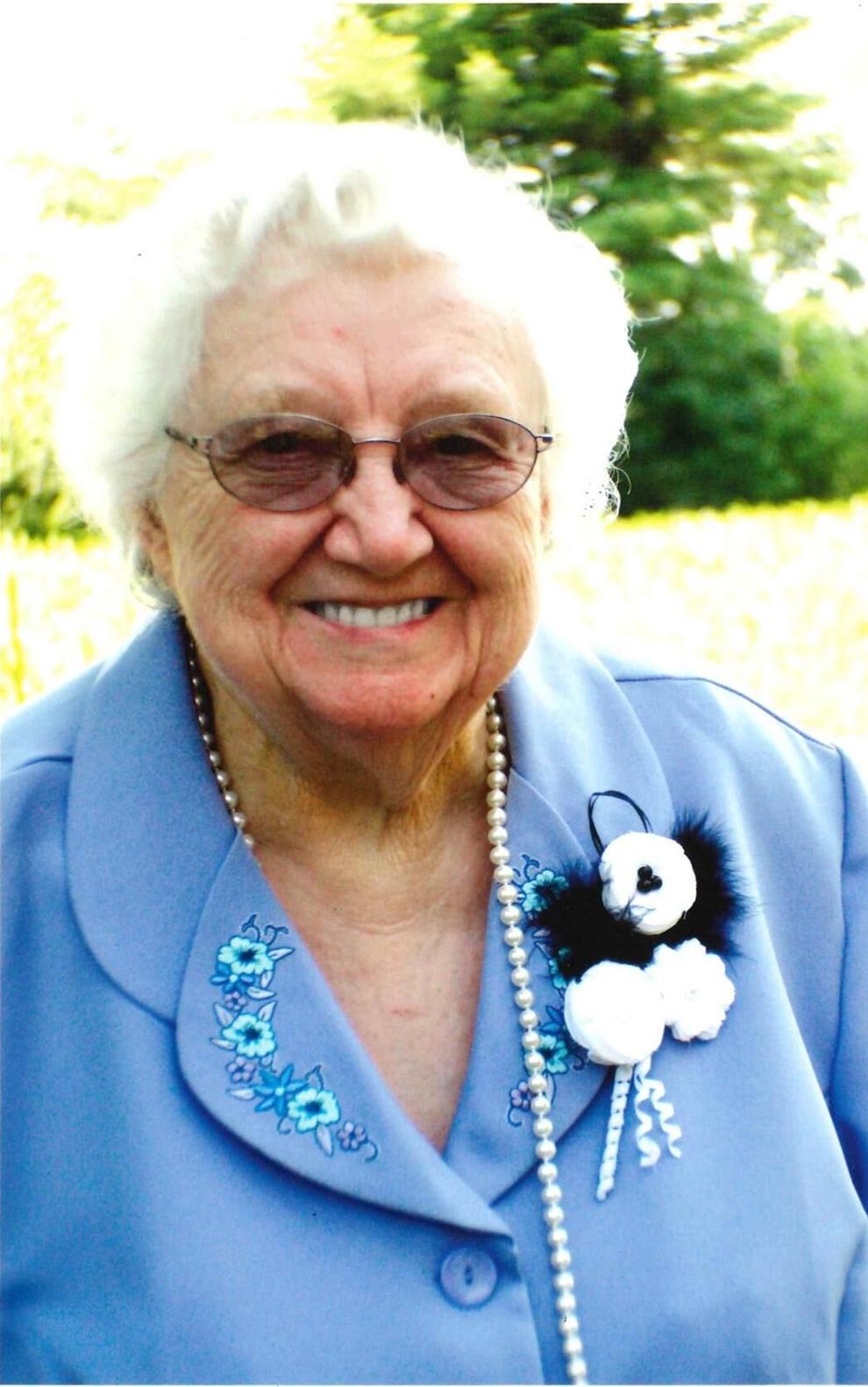 Ellen Pearl Mark, 98, of Rice Lake, Wisconsin and formerly of Chetek, passed away on Monday, August 16, 2021 at Cambridge Senior Living in Rice Lake, Wisconsin.
Ellen Aggen was born on June 10, 1923 in Mount Greenwood, Ill., the daughter of Harry and Jennie (Smith) Aggen. She attended Mount Greenwood School until the 8th grade. Ellen married Carl Patz at the age of 18 until his untimely death a few years later. She then married Clinton Mark at the age of 22 and enjoyed raising her family, farming and homemaking for 34 years before the loss of Clinton.
Ellen was actively involved with the Methodist church throughout her life, participating in the Women's Society of Christian Service while living in Illinois and then the United Methodist Church in New Auburn, Wis. She enjoyed singing with the New Auburn Community Choir and both she and Clinton served on the Farm Bureau board during their farming career. Ellen was fortunate enough to be a home maker the majority of her life and lived her life on craft project at a time. She especially enjoyed quilting and making candies. She took pride in passing on her skills to her children and grandchildren and was affectionately known as "Grandma Mark" to those who enjoyed her chocolates and candies.
In addition to these activities, Ellen enjoyed gardening, baking, and teaching her children and grandchildren the art of canning and preserving.
Her home was always a welcoming place for family, friends, and neighbors to visit.
With her growing family spread throughout the country, Ellen was able to take pleasure in traveling and visiting many places.
Ellen leaves to celebrate her memory, children: Vernon (Marion) Patz, Chippewa Falls, Wis.; Carolyn (Randy) Michaelis, LaCrescent, Minn.; Lloyd Mark, Barron, Wis.; Duane Mark, Two Rivers, Wis. and Corinne (Dan) Hassemer, Chetek, Wis.; many grandchildren, great-grandchildren, great-great-grandchildren, brother: LeRoy Aggen; nieces, nephews and other loving family and friends.
She was preceded in death by her parents: Jennie and Harry Aggen; her first husband: Carl Patz and her second husband: Clinton Mark; siblings: Harry Aggen Jr., Louella Homerding, Zena Sluiter and grandchildren: Rex Wolf, Christopher Mark and great-grandchild Stephanie Patz.
The funeral service for Ellen will be held on Saturday, August 28, 2021 at the Chetek United Methodist Church at 2:00 p.m.  Visitation will be at the church from 1:00 p.m. until the time of service.  She will be laid to rest at the Lakeview Cemetery in Chetek following the service.  A warm meal will be served at the church following the cemetery service.  Pallbearers are John Mark, Ronald Mark, Jamie Hassemer, Bill Paddy, Kevin Aggen, Victor Aggen, and Ben Howen.
The Burnham-Ours-Kolstad Family Funeral Home of Chetek has been entrusted with arrangements.