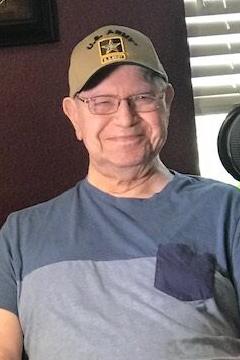 Seymour Wayne Donaldson, 88, passed away peacefully on August 18, 2022, at the Clifford Chester Sims Veterans Nursing Home in Panama City, Florida, after a long battle with Parkinson's Disease. Seymour was born in Chippewa Falls, Wis. and was a long-time resident of the Bloomer area. He served in the U.S. Army stationed in Iceland. When he returned from the service, he married Shirley Marie Hetzel on October 17, 1959. They had three children: Mike, Mark, and Michelle.
After dairy farming in the Bloomer area for a few years, Seymour decided to move his family to Waterloo, Wis. where he started buying cattle for Kress Meat Packing Co. The family later moved back to  Bloomer, where Seymour continued his cattle buying career buying mostly at the Altoona Stockyards for many years. At the end of his career and after moving to West Fargo, N.D. he enjoyed buying cattle for Long Prairie Packing Co., mainly from the West Fargo Stockyards.
Seymour and Shirley retired to Panama City Beach, Fla. in 1998, where they spent many wonderful years with family going to many softball and baseball games, watching their grandchildren compete, and taking the grandkids to the beach, fishing in the gulf while relaxing and enjoying life. Seymour loved his grandchildren!!!
Seymour set an excellent example for family life. He was an avid deer hunter and Green Bay Packer Football fan and owned stock in the team. While living in West Fargo, N.D. Seymour and Shirley joined a bowling league with their friends winning several trophies. In addition, he enjoyed many spirited card games with family and friends over the years.
Seymour is survived by his wife of 63 years: Shirley M. Donaldson of Panama City Beach, Fla. and his three children: Mike (Wendy Krein) Donaldson of Hebron, N.D., Mark (Teresa) Donaldson of Rocky Point, N.C. and Michelle (Dan) Flaat of Panama City Beach, Fla.; his five grandchildren: Taylor Flaat of Jersey City, N.J., Ellie Flaat of Chattanooga, Tenn., Logan Donaldson of Smithfield, UT; Zhanna (Louis) Velasco of Rocky Point, N.C. and Kyle Donaldson also of Rocky Point, N.C.; one great granddaughter, Guila Velasco of Rocky Point, N.C. Seymour is also survived by sisters: Barbara Dalhoe of Westin, Wisconsin, Nancy DeVault of Katy, Texas; sister-in-law Charlotte Meier of Panama City Beach, Fla. and several special nephews and nieces.  
Seymour's battle with Parkinson's Disease made it necessary to access nursing home care. As a result, he made several new friends and was blessed with loving caregivers that treated him like family.    
He was preceded in death by his parents: John and Esther Donaldson; brother: Daniel; brothers-in-law: Gainard Dalhoe, Gilbert DeVault and Gary Meier.
Funeral Services will be held at 11:00 a.m. on Saturday, August 27, 2022, at Trinity Lutheran Church at 1001 West 11th Street,  Panama City, Fla. 32401. Reverand Paul McComack will be officiating the service. Interment will be held at a later date at the Bloomer, Wis. cemetery.