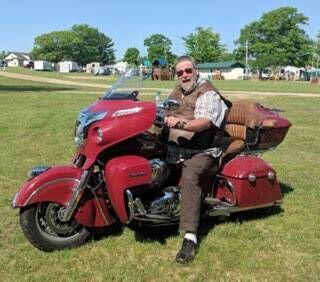 Darrin J. Loofboro of Delton, Mich. passed away Sept. 3, 2022, at home. He was born to Norman Loofboro and Joanne (Fuss) Batchelder on May 4, 1965, in Bloomer, Wisconsin. Darrin was raised in New Auburn, Wisconsin and later moved to Michigan where he worked as a mechanic, salesperson and finally a semi driver. Darrin loved camping, fishing, hunting and especially spending time with family. He always had some side project to work on.
Darrin is survived by his loving wife: Connie Loofboro, and his beautiful children: Alicia (Dustin) Merlau, Scott (Missty) Black, Sam (Em) Black, his seven special grandchildren: Emmett, Garret; Lawson Merlau, Josy Black, Stella, Summer; Logan Black; his father: Norman Loofboro; siblings: Patricia Weiss, Pam Loofboro, Paula (Delmar) Ringer and Dale Loofboro.         
He was preceded in death by his mother: Joanne (Fuss) Batchelder and brother-in-law: Joseph Weis.
There will be a celebration of life Oct. 1 at The Orangeville Township Hall (7350 Lindsey Rd. Plainwell, Mich. 49080) from 1-5 p.m. and a memorial motorcycle ride.