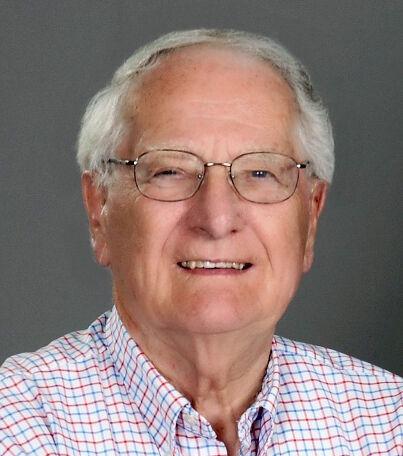 Ralph Adrian Bruxvoort, age 87, passed away Tuesday, March 23, 2021, at his home in Bloomer, Wisconsin.
He was born April 11, 1933, in Tres Arroyos, Argentina to Brandt and Sophia (Fryling) Bruxvoort where his father was a missionary on behalf of the Christian Reformed Church to the Dutch immigrant community there. The family returned to the US in 1935. Ralph graduated from Washington High School in Sioux Falls, S.D., in 1951 and earned a bachelor's degree in pre-seminary from Calvin College in Grand Rapids, Mich., in 1955, and a theological degree from Calvin Seminary in 1958. Both his grandfather, Herman Fryling, and father, Brandt Bruxvoort, were also pastors and graduates of Calvin Seminary. He married Elaine Bruxvoort on January 31, 1958, in Grand Rapids, Mich.
On September 25, 1958 he was ordained as a minister in Alamosa, Colo. Christian Reformed Church. He later served in Pompton Plains, N.J.; Ada, Mich.; Churchill, Mont.; Stony Plain, Alberta, Canada; and Quincy, Wash. before retiring to Bloomer, Wis. to be near the Glenn and Kristen Bruxvoort family. He quickly put down roots and preached "on call" for both Christian Reformed and Presbyterian churches in Wisconsin and Minnesota.
He was a firm believer in education; he was a dedicated member of the Bloomer School Board from 2007 to 2016 and was very pleased to see the construction of the new Bloomer Elementary school campus unfold during that time. In his later years, he carried out his goal of attending as many grandchildrens' graduations as possible--especially the high school graduation--which brought him to all corners of the US. He was an avid reader, borrowing books from the Bloomer Public Library and reading deeply of histories, biographies and social justice. He was also a faithful swimmer at the Bloomer Aquatic Center, attending classes up to the Thursday before he passed.
He is survived by children: Rhonda (Dan) Berg of Gallup, N.M.; Ellen (Lonnie) Stephens of Coeur d'Alene, ID; Joel (Barbara) Bruxvoort of Pacifica, Calif.; Susan (Ben) Lipscomb of Filmore, N.Y.; daughter-in-law: Kristen Bruxvoort of Bloomer; sisters: Dora Steffen of Hills, S.D.; Joanna DeRuiter of Crestwood, Ill.; 16 grandchildren and five great-grandchildren.
He was preceded in death by his wife: Elaine Bruxvoort; two sons: Glenn Bruxvoort and infant, Ned Bruxvoort; one grandchild: Catherine Stephens; siblings: Herman Bruxvoort, Brandt Bruxvoort, and Marvin Bruxvoort.
Graveside service was held on Sunday, March 28, 2021, at 1 p.m. at Rufledt Cemetery located at the corner of AA and 226th Ave. in Chippewa County.
Memorial donations may be made to the Bloomer Area Aquatics and Recreation Center.
The service was livestreamed on Olson Funeral Home in Bloomer Facebook Page. Online condolences olsonfuneralhomebloomer.com.