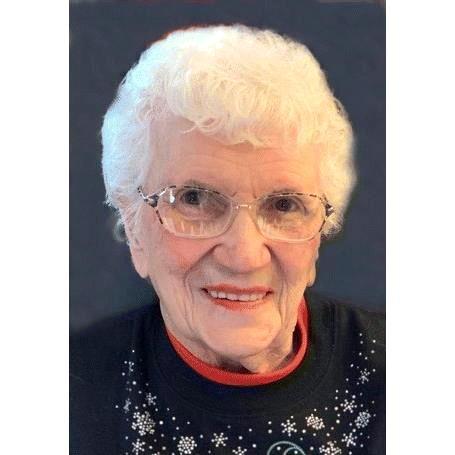 Wanda Faye (Adams) Lance will be dearly missed by her loved ones. She passed away peacefully on February 8, 2021, at 95 years old. Wanda was the youngest of 9 children born to Bertha Madge and Arthur Adams in St. Joseph, Mo., on September 12, 1925. 
On Wanda's birthday in 1947, she married Stephen Vailey Lance Jr. She was a city girl who met a farmer boy. Wanda was a homemaker while her children were young, and the family moved to various places in Missouri, Minnesota and Wisconsin as Steve was transferred for work. When Wanda joined the workforce, she was a nurse's aide at Marquardt Manor in Watertown, Wis. Eventually, Wanda helped create a beauty salon in the facility and left her nurse's aide duties to assist in the salon. She derived such pleasure from witnessing how a simple salon experience could make the residents feel so much joy. Wanda worked at Marquardt Manor for 26 years before she retired. 
Although Wanda and Steve enjoyed golfing in their early years together, they ultimately joined the sport of horse pulling for the remainder of their years together. Truth be told, the family teases that when Wanda got to be a better tournament golfer than Steve, that is when he decided to pull horses. 
For 30+ years, Wanda was an integral part of the Lance Machine, a horse pulling dynamometer. She and Steve traveled with this legendary dynamometer organizing horse pulling competitions at fairs and other venues in nine different states. In 2012, Wanda received recognition for her service with the Wisconsin State Fair Ag Department, fulfilling the needs of entrants to the horse pulling events for over 40 years. "Wanda's optimism and love for the Fair shines in all she does, and she is an irreplaceable member of the Wisconsin State Fair Agriculture family. We are pleased to announce Wanda Lance as a member of the class of 2012 Grand Champion Circle." Plaque inscription: "Throughout the years Wisconsin State Fair has entertained millions of people and created a lifetime of memories for fairgoers and exhibitors. The success of the Fair would not be possible without the hard work of the following loyal, selfless, and dedicated individuals who are valued members of the Agriculture family at the Fair. We sincerely thank Wanda Lance." 
Wanda was an avid and vocal Packer fan even through the tough years. A favorite game day (or any day!) most requested snack by her grandchildren and great-grandchildren were her famous ham-pickle rollups. She was very particular about the ham and pickles used in this dish and, of course, they were always made with love. 
She was always eager to see her grandson perform in the award-winning band, Madison County. Being so proud of his music and the musicians that made up this great group. 
Wanda is survived by her three daughters, Lawana (Bill Zibell) Bowe, Vickie (Mike) Zibell, and Stephenie Eberl; 7 grandchildren, Jay (Dawn) Bowe, Cambridge; Nikki (Brian) Crane, Bloomer; Brent (Patti) Bowe, Waunakee; Michael (Valerie) Zibell, Jr., Waunakee; Matthew Zibell, Cambridge; Trista (Craig) Bagley, Deerfield; Breana Schliewe, Watertown; 15 great-grandchildren and 1 great-great-granddaughter. She was preceded in death by her parents, Bertha and Arthur Adams, 8 siblings, and her husband of 57 years, Stephen. 
Wanda's family would like to extend a heartfelt thank you to the dedicated personnel at Oak Park Place, Agrace Hospice, and Cress funeral home for their tremendous care of Wanda. 
A private family gathering will take place at a future date. 
Cards and condolences may be sent to Cress Funeral Home, 206 W. Prospect St. PO Box 231, Stoughton, Wis. 53589. 
Cress Funeral Home, 201 Bue Street, PO Box 376,Deerfield, Wis. 53531 is assisting the family.