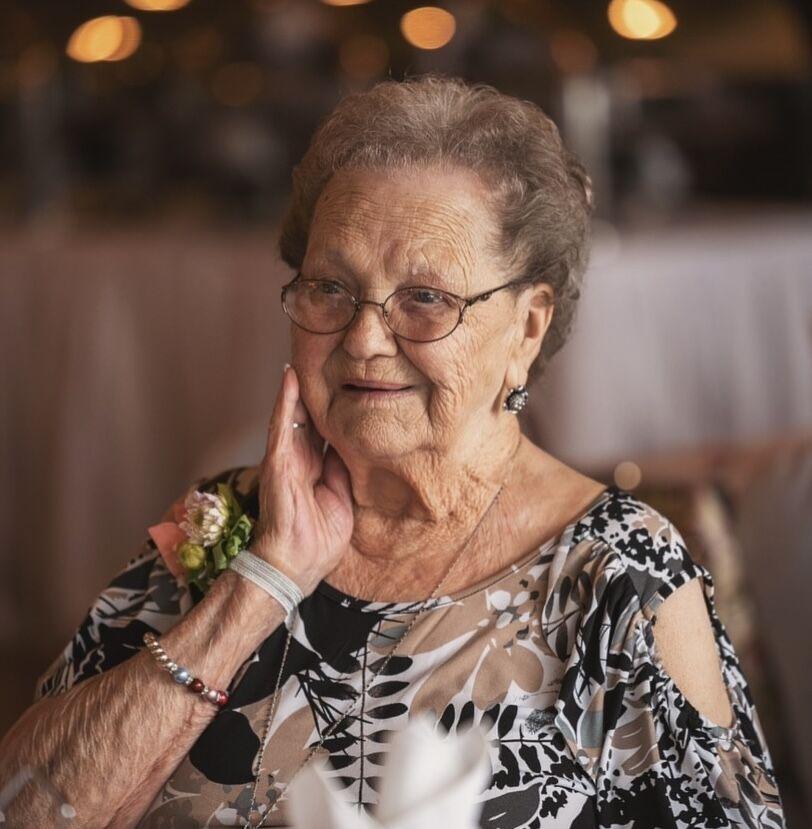 Patricia Ann Hartman, 91 of Bloomer, Wis. died Sunday, January 22, 2023, at Dove Healthcare in Bloomer, Wis. Patricia was born on March 26, 1931, to Richard and Anna (Zwiefelhofer) Pecha. She was born in Chippewa County and lived in the Bloomer-Eau Claire area her whole life.  On August 26, 1952, she married Jerome Hartman. Her passion in life was caring for her nine children and their families. She was a terrific cook (dumplings, meat and sauerkraut) and a wonderful homemaker. Her greatest joy in life was her family. Attending family functions made her the happiest. She enjoyed playing cards especially "Sheepshead." She loved getting a good "nine bagger", but hated the "three on the end".
She is survived by her nine children: Deborah Asher (Bill Jacobs), David (Mary) Hartman, JoAnn (Mike) Feeney, Daniel Hartman, Gary (Deon) Hartman, Cynthia (Bill Nelson), Mark Hartman, Jeffrey (Jean) Hartman, and Cathy (Joe Couey); her grandchildren:  Doug (Shellie) Asher, Kristi (Adam) Kuechenmeister, Andrew (Jennifer) Asher, Nathan (Jennifer) Hartman, Beth (Jens) Cornell, Ryan Feeney, Shaun Feeney, Joshua (Tanya) Hartman, Rebeka Hartman, Seth (Heli) Hartman, Craig (Lauren) Hartman, Jessica Haas, Ashley Hartman, Dylan Nelson, Logan Nelson, Isabel Hartman, Emily Hartman, Rachel Schindler and McKenna Schindler; great grandchildren: Tayler and Zachary Asher, Mitchell, Samuel, and Andrew Kuechenmeister, Reid and Jillian Asher, Benjamin, Jared, Betsy, and Matthew Hartman, Jonathan, Lucia, and Emmeline Cornell, Aliya, Briella, and Ciara Hartman, Landyn Ludwigson, Isla and Isiah Hartman, Olivia and Miles Hartman, Madden and Brynn Haas, and Alexis Loew; great-great grandson: Oliver Weber; siblings: Darlene Weeks and Daniel (Candace) Pecha; in-law: Jerry Asher.
Patricia is preceded in death by her parents: Richard and Anna; grandchildren: Kelly Hartman, Robert and Jared Hartman; former husband: Jerome Hartman; siblings: Valeria Gunderson, and Gerald Pecha; brothers-in-law: Duane Gunderson, David Weeks, Paul and Bernard Hartman and Archie Turner; sisters­ in-law: Phyllis Hartman, Marie Turner, Elsie Hartman and Elaine Hartman.
Mass of Christian Burial will be held at 11 a.m. on Saturday, January 28, 2023, at St. Paul's Catholic Church with Father Chinnappan Pelavendran officiating. Burial will follow mass at St. Paul's South Catholic Cemetery in Bloomer. Visitation will be held on Friday, January 27, 2023, from 4-7 p.m. at Thompson Funeral Home, with a Vigil Service at 7 p.m. Visitation will also be held from 9:30-10:30 a.m. on Saturday at the funeral home.
Thompson Funeral Home & Chippewa Valley Cremation Services, Bloomer is serving the family. To offer online condolences please visit, www.thompsonfuneralhome.com.