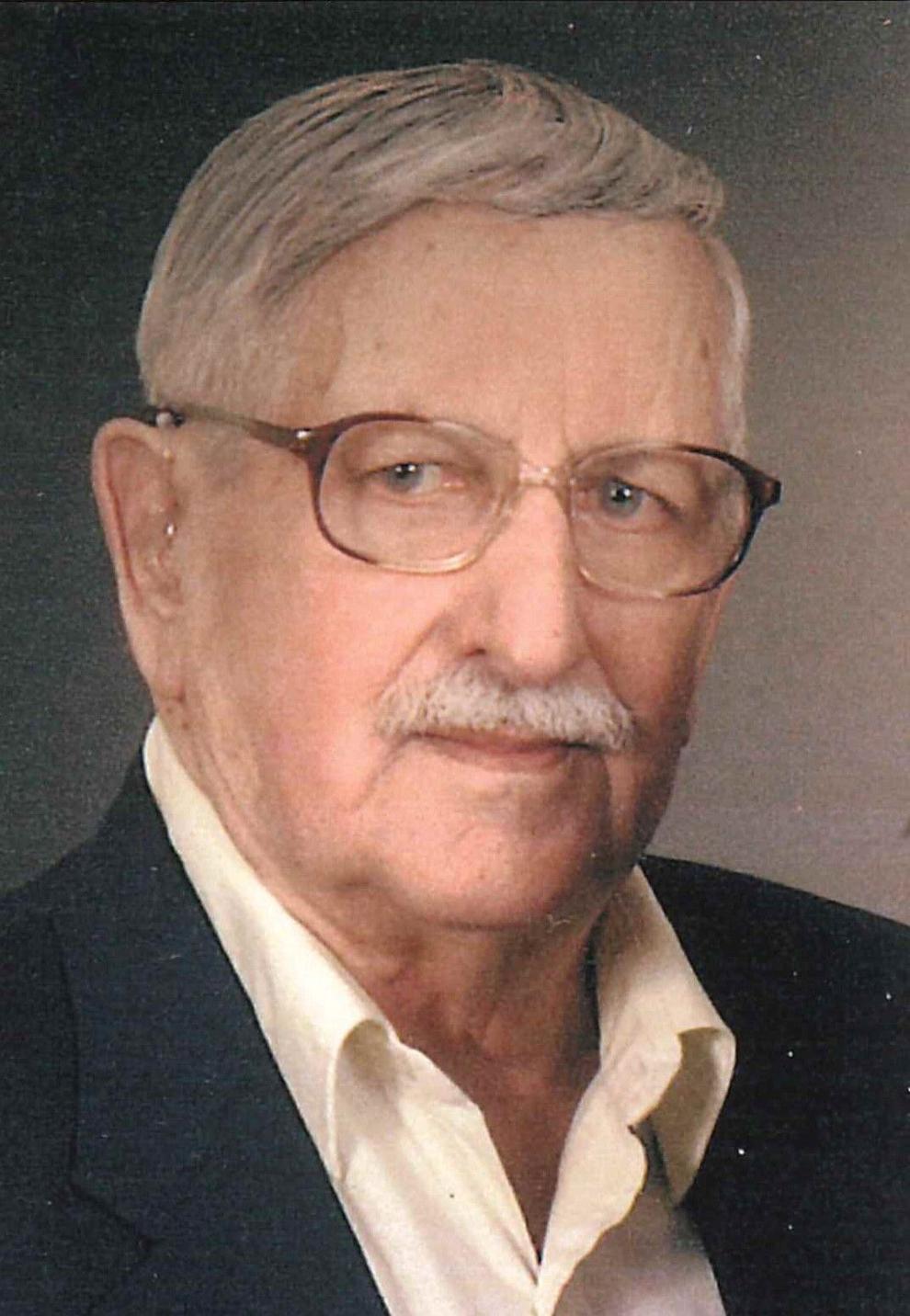 John A. Homa Jr., 91, passed away August 11, 2022, at Care Partners in Altoona, Wis. John was born February 25, 1931, in Hillsboro, Ill. to John and Beatrice (Hill) Homa of Hillsboro, Ill.  He graduated from Hillsboro High School in 1949 and then enlisted in the U.S. Air Force and served during the Korean Conflict from 1950-1953.
John started his career at Caterpillar Inc. in 1955 as a factory accounting clerk for 10 years and worked his way up to accounting manager for the next 20 years.  He retired after 30 years in 1985.  John married Vicki Jo Little on September 6, 1973. They raised two daughters: Julie and Jenifer.  They were happily married for 36 years.
During his employment at Caterpillar, he joined a band called The Mello Tones as an outstanding trumpet player where he played for over 15 years.  John also enjoyed riding his motorcycle, which he loved.  When he retired, he moved his family to Sand Creek, Wis. in 1985.  John excelled at bowling, having the highest average in the men's league.  He enjoyed playing golf as well as making golf clubs for many people.  He loved camping with his wife Vickie. They eventually had a permanent campsite at Birch Point Resort for many years. They camped with family and friends, enjoyed fishing, and cooking out.  John looked forward to playing cards in the evening with good friends.  He enjoyed spending time with family and friends.  John had medical issues in May 2019 that ended with him moving to Eau Claire, Wis. to live with his daughter, Jenifer and son-in-law, Dan.  It was hard for him to leave his home in Sand Creek, Wis. for over 30 years.
John is survived by his daughters: Julie (Chris) Kuntz of Bloomington, Minn.; Jenifer (Dan) Ewer of Eau Claire, Wis.; grandchildren: Jim, Mike, Cary, Toby, Allison, Charlee, Christian, and Olivia; brother: Jim (Emma); and by numerous nephews and nieces.
He was preceded in death by his parents: John and Beatrice; his wife: Vickie; sisters: Dorothy and Joan; daughter: Judy; Sister-In-Law: Debbie; former wife: Rosemary; loving companion: Opie.  In lieu of flowers, the family would appreciate receiving plants.
Funeral Services will be held at 11 a.m. Thursday, August 18, 2022, at New Hope Lutheran Church in Sand Creek with Rev Dr. Michael D. Sparby officiating.  Visitation will be held from 4-7 p.m. Wednesday at Thompson Funeral Home in Bloomer and also one hour prior to service at church on Thursday. Interment with Military Honors conducted by the Bloomer VFW/AMVETS & American Legion will be at Our Saviors Cemetery following the service.  
Thompson Funeral Home & Chippewa Valley Cremation Services in Bloomer is serving the family. To express condolences online, please visit www.chippewavalleycremation.com.