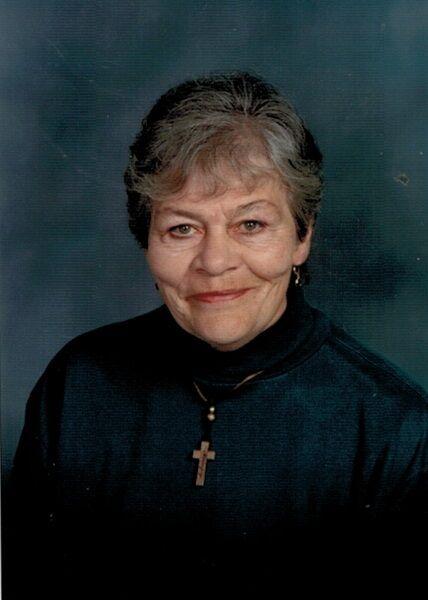 Charlotte A. Ager, long time resident of Chetek, died Monday, March 1, 2021, at Country Terrace Care Partners Assisted Living in Bloomer, Wisconsin. 
Charlotte was born to Felix and Anna (Stoffel) Yakesh, on October 25, 1933, on the family farm in Cooks Valley, west of Bloomer.  She was the third of six children.
 She loved growing up on the farm and working with her father and brothers doing chores.  She often mentioned how growing up during the great depression and World War II, defined her outlook on life.  She was proud of her Czechoslovakian and German/Belgian heritage, and also of being left-handed.  Charlotte was a lifelong member of the Catholic Church.  Her early school years were spent at St John The Baptist Grade School in Cook's Valley, and later finishing high school in Colfax and Bloomer.  She graduated in 1951.  
 She met and married Wally (Waldemar) Ager in 1953, while working as a clerk at Mason Shoe, in Chippewa Falls, Wis., and her early years were spent as an Army wife.  Charlotte and Wally had four children, Roger, Nancy, Susan and Lizbeth. Together they owned and operated several successful businesses, Burleigh Raceway, hobby shop, Milwaukee Wis., Tall Timber Cottages Resort Chetek, and the Brass Rail Bar in Chetek. 
 Charlotte also worked for many years in the Chetek area  as a supper club waitress, first at The Spot, and then at Pokegama Inn.  She said she loved this type of work because of all the interesting people she worked with and met.  Charlotte was a woman of many talents and thrived on learning new things. She was a skilled seamstress, avid reader and gardener.  She loved trivia and Scrabble and enjoyed the competition of those games.  In her 40's she realized her dream of seeing Europe, traveling there with her sister Mona Zumbrock.  They planned their own trip, traveling alone, seeing the sights.
Charlotte was a good mother, and encouraged curiosity of the world, a passion for reading, creativity and learning in her children and grandchildren.
 Survivors include her daughters: Nancy Louise Ager of Trinidad, Calif, Susan (Tom) Avery and Lizbeth (Thomas) Nicolaides, both of Chetek, Wis. Daughter-in-law: Gloria (Roger) Ager of Chippewa Falls, Wis.; sister: Ramona (Ron) Zumbrock of Chippewa Falls, Wis.; sister: Irene (Don) Burr of Waukesha Wis.; five grandchildren: William (Marti) Ager, Joaquin Ager, Jacob (Jamie) Avery, Andrea (Allen) Worthey,  Theodore Persson; six great grandchildren: Rosalind Ager, Madeline, Molly and Maggie Avery, Julian and Inga Worthey; several nieces and nephews and extended family.  
 Charlotte was preceded in death by her parents, husband: Wally Ager; son: Roger Ager; son-in-law: Tom Avery; her brothers: John and Robert Yakesh and sister: Barbara Morgan.
A service will be held at a later date, by her family.
In lieu of flowers or memorial gifts, the family asks that you do something to contribute to your community.
Thompson Funeral Home & Chippewa Valley Cremation Services in Bloomer is serving the family. To offer online condolences please visit, www.thoompsonfuneralhome.com.