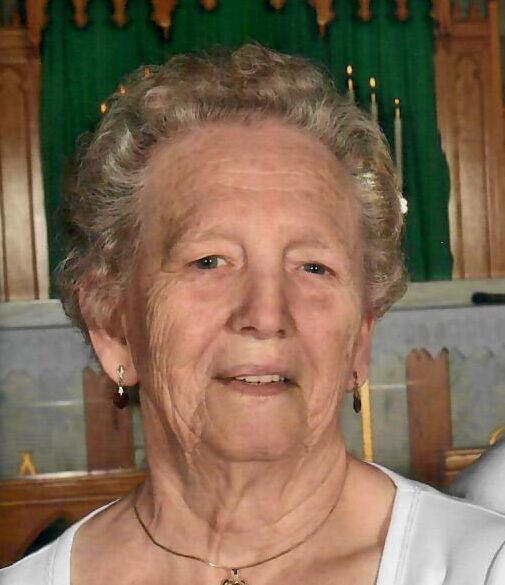 Ella M. Waterhouse, age 88, passed away unexpectedly on March 21, 2021 in Chetek. She was born on July 3, 1932 in Illinois to William and Alice (Kjellesvik) Butterfield. She married John Waterhouse on September 21, 1951 in Pine City, Minnesota. Ella worked as a domestic engineer, taking care of John, her family, and the family farm. She enjoyed going to breakfast, playing cards, and crafting, but family was always the most important thing to Ella period.
She is survived by her husband: John of Chetek; children: Rosemary (Jerry) Toth of Wausau, David (Karen) Waterhouse of Menomonie, Bruce (Teresa) Waterhouse of New Auburn; brothers: Ralph (Carol) Butterfield of New Auburn and Roger Butterfield of New Auburn; sister in-law: Janice Butterfield of Cadott, seven grandchildren and ten great-grandchildren; numerous nieces, nephews, other relatives and friends.
She was preceded in death by her parents: William and Alice Butterfield; brothers: Bill, Ray, Jack and Robert Butterfield; sisters: Shirley Stanford, Mary Snodgrass, Lois Fedie and Audrey Biery.
A funeral service will be held on Friday, March 26, 2021 at 12:00 p.m. at New Hope Lutheran Church in Sand Creek, with a visitation from 10:00-12:00 p.m. at the church before the service. Please practice CDC guidelines. Olson Funeral Home in Bloomer is assisting the family. Online condolences may be expressed at olsonfuneralhomebloomer.com.