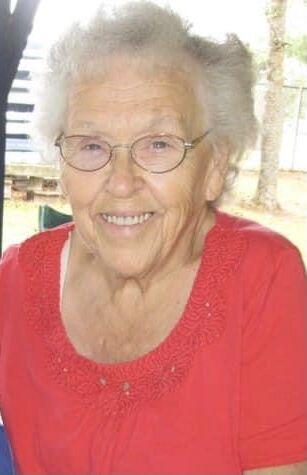 Martha Mae Cunningham, age 87, passed away on Friday, January 8, 2021 at her home in Bloomer. She was born in Hannibal Wis. on April 23, 1933 to Perry and Agnes (Fisk) Olds. She married LaVerne "Junie" Cunningham on July 3, 1950 in Ladysmith Wis. Martha and Junie lived in the Walworth area until they moved north to Jump River in 1953 to farm until 1988. In 1993 they moved to a farm in Chetek and farmed with both sons and son-in-law. Martha was a hard-working farm wife. She also enjoyed gardening, sewing and bird-watching. Most important to her was her faith and her family. She loved sharing the word of God and spent countless hours praying over her children and grandchildren. Spending time with her husband, children and great-grandchildren gave her tremendous joy.
She was preceded in death by her parents: Perry and Agnes Olds; her husband of almost 70 years: Junie; sons-in-law: Monte Shufelt and Daniel Briel; brothers: Ken, Larry, George, Dick and Dale; grandson: David Briel.
She is survived by her children: Sandra (Doug) Magray, Debarah Shufelt, Perry (Rhonda) Cunningham, Robin (Deb) Cunningham, Patricia "Patty Jo" (Jack) Nelson; Melissa Briel; numerous grandchildren, great-grandchildren, nieces, nephews, other relatives and friends.
Funeral services will be held on Saturday, January 16, 2021 at 4:00 p.m. at the Rice Lake Seventh Day Adventist Church. Please observe CDC guidelines. Olson Funeral Home in Bloomer is assisting the family. Online condolences may be expressed at olsonfuneralhomebloomer.com.