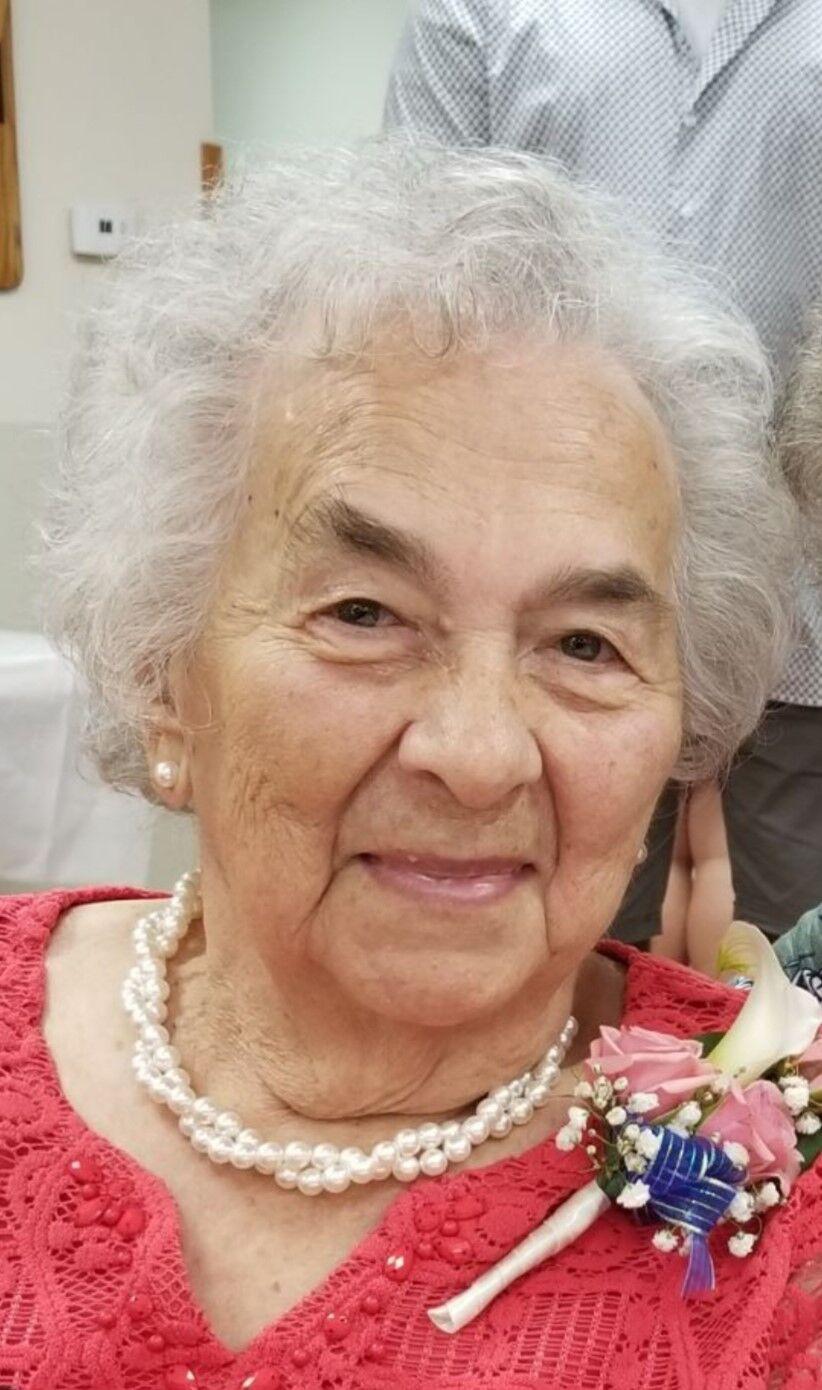 Iris (Bergeron) Lemke, 93, passed away peacefully Monday, October 11, 2021 at Aggie's Country Living in the town of Eagle Point under the care of Mayo Clinic Hospice.
Iris was born on August 28, 1928 to Evelyn and Archie Bergeron. She grew up in Eagleton and attended Eagleton grade school and graduated from McDonell High School. She worked at Mason Shoe Company.
She married Donald Lemke, Sr. on October 18, 1951 at Notre Dame Church in Chippewa Falls. Together they raised six sons and operated Don Lemke trucking. They had many wonderful years together and were excellent role models to their family of what true and lasting love looks like.
Iris was a lifelong member of Sacred Heart Catholic Church. Her strong faith remained a constant throughout her life and she believed very strongly in the power of prayer-teaching those same values to her children and grandchildren. If you ever met her, there's a good chance that she has prayed for you.
Iris enjoyed traveling near and far – whether on a cruise ship to Alaska or a visit with her son, Joe, in Houston, or – and perhaps most of all – a jaunt up to Highway 8 in Turtle Lake. She enjoyed time with family and friends, cheering on the Packers or playing a game of Tic. Iris enjoyed nothing better than being surrounded by her loved ones, in her home, eating, drinking, laughing and just being together. You were always welcome to stop by and see her and, when you did, she made you believe that your visit was the absolute highlight of her day. And so it was fitting that in her final days those same loved ones gathered around her for some final visits.
Iris is survived by five sons and their spouses and partners: Tom (Denise) of Jim Falls, Dick (Chris), Donnie (Karen) and Randy (Jen) all of Chippewa Falls, and Joe (Al) of Houston, Texas; daughter-in-law: Gloria Lemke of Bloomer; brother-in-law: Bill Anderson, Sr.; sixteen grandchildren who knew they were the luckiest kids in the world to have a grandma like her; 21 great grandchildren; and many loving nieces, nephews, cousins and friends.
Iris was preceded in death by her husband: Don; her oldest son: Jerry; her parents; two sisters: Shirley Brown and Lue Anderson; two brothers: Pug Bergeron and George Bergeron.
Funeral services will be held at 10:30 a.m. Tuesday, October 19 at Sacred Heart Church in Jim Falls. Rev. Eric Linzmaier will be celebrant of the funeral Mass. Interment will be in Forest Hill Cemetery in Chippewa Falls.
Friends may call from 4 to 7 p.m. Monday, October 18 and from 9 to 10 a.m. Tuesday at the Horan Funeral Home. There will be a Christian vigil service at 7 p.m. Monday at the funeral home.
Iris's family would like to thank Sheena and the staff at Aggies Country Living for the excellent care and love they have given Iris the past two years.
Family and friends may express condolences online at www.horanfuneralhome.com.