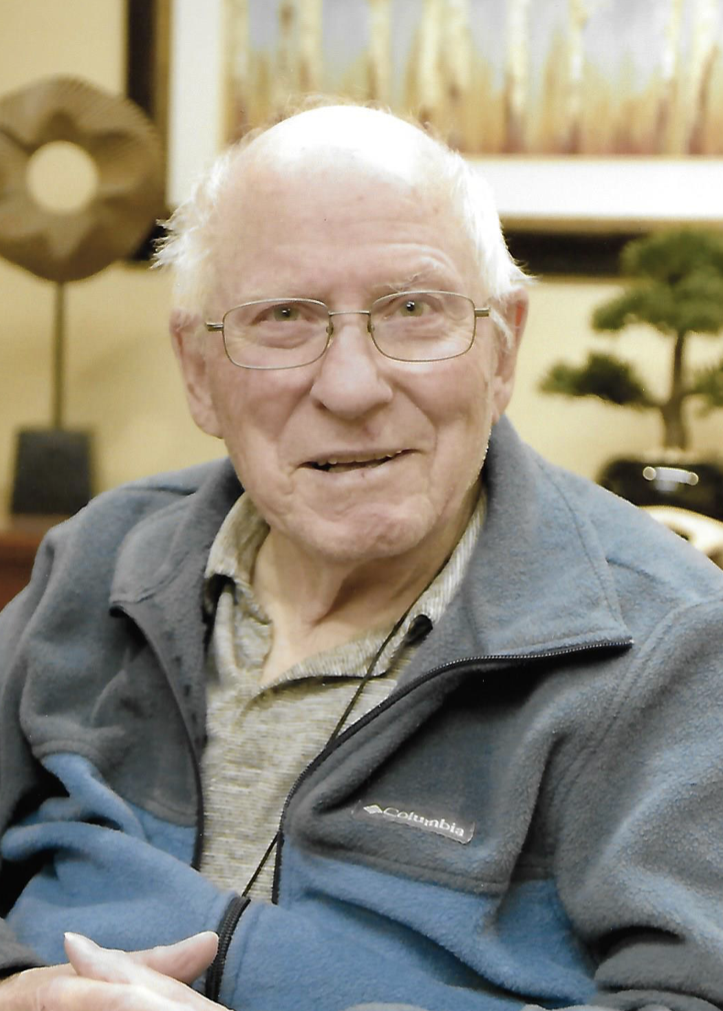 Thorlough "Thor" Meier, age 94, passed away November 18, 2021 at The View Assisted Living in Johnson Creek, Wisconsin.  He was born on September 11, 1927 in Cumberland, Wis. to Edwin and Olga (Just) Meier. He married the love of his life, Lucille Jorgenson, September 12, 1953 in Grand Forks, N.D. Thor started his teaching career in Montana and Colorado. In 1963 he moved back home to Wisconsin where he settled in Bloomer. There he taught math for over 30 years and raised a beautiful family of 7 daughters in a one bathroom home! 
Thor spent much of his time learning as well as teaching. He experimented in winemaking, beekeeping, gardening and even cooking. He taught his daughters a variety of skills, from roofing a house to card playing. He raised his daughters to be honest, curious and strong. He was an avid reader, enjoyed golfing, traveling, hiking, playing bridge, hunting with friends, and enjoyed being with his friends and family. He was a man of great faith and conviction.  
He is survived by his daughters: Diane (Duke) Maurer of Belen, N.M., Margaret (Edward) Vargas of Bowie, Md., Amy (Bob) Siesennop of Oconomowoc, Wis., Elizabeth (Peter) Gust of Friendship, Wis., Kate (Melvin) Jopson of Rochester, N.Y., Kristine (Joel) Haffely of Woodbury, Minn. and Nancy (Michael) Thompson of Blaine, Minn.; sisters: Ora Payne and Vida Cordell; brother: Maurice Meier; 22 grandchildren and 14 great-grandchildren, numerous nieces, nephews, and friends. 
He is preceded in death by his parents: Edwin and Olga (Meier) Cloeter; wife: Lucy; sisters: Elvira Ostrum and Agatha Meier, brother: Donald Meier.   
The Meier family would like to extend a huge thank you to The View and St. Croix Hospice for all of the loving care they provided Dad and his family. His caregivers are amazing, and made Dad's last year happy and blessed. 
In lieu of flowers, donations can be made to St. Paul's Catholic School, 1222 Main St., Bloomer, Wis. or Bloomer Food Pantry, 808 Jackson St., Bloomer, Wis.  54724. 
Visitation will take place at St. Catherine of Alexandria Catholic Church, W359N8512 Brown St., Oconomowoc, Wis. on Friday, December 10, 2021, from 10:00 until 11:00 a.m. A Mass of Christian Burial will follow, beginning at 11:00 a.m. with Fr. Mike Strachota presiding.  
Thor still had many friends in the Bloomer area. A Celebration of Life will be held on Saturday, December 11, 2021, at Olson Funeral Home in Bloomer, Wis. Visitation starts at 1 p.m. with a Service to follow at 2:00 p.m. Fellowship will be held at Bohemian Ovens following the Service.  Please join us for food and friendship. 
Burial will take place in Cumberland, Wis. in the Spring.