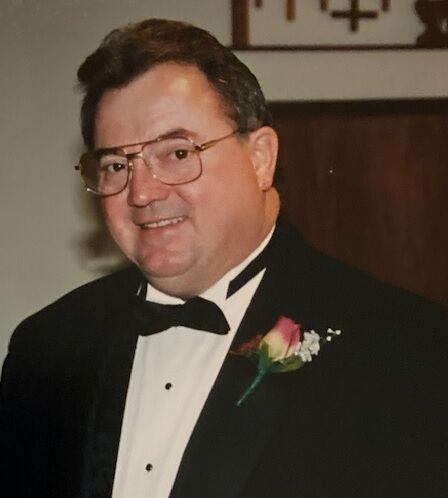 William "Bil" James Ford passed away unexpectedly on July 27, 2021, at his home in New Auburn, Wis. 
Bil was born on November 17, 1941 to Jim and Alice Ford, and was the second born of their five (2 boys, 3 girls) children. Bil grew up with his family in Gladstone (Maplewood), Minn., until the family moved to Mahtomedi, Minn. Bil learned many skills from his mother, including making wine and preserves using vegetables, fruit, and berries that were grown on the Mahtomedi property. Bil's love of automobiles was encouraged by his father, and began when he was young.
Bil graduated from Mahtomedi High School in 1959, where he excelled in football, hockey, and baseball. After high school, Bil joined the US Army Reserve, where he was able to pursue his passion: Auto Mechanics. Bil went on to Dunwoody Technical College and graduated with a degree in Auto Mechanics. Bil would go on to own Auto Service Stations in Mahtomedi, White Bear Lake, and St. Paul, Minnesota. Bil then took his mechanical skills to Hoffman Electric Co. as a mechanic for their fleet of vehicles. Bil was part of the formation of Town and Shores Electric Company, which gave him an opportunity to work in one of his favorite places: Northern, Minn. Bil's professional career concluded with a stint at Al's Service Station in Mahtomedi, a place that gave him a start in the auto repair business. 
Bil's work ethic earned him the ability to have many recreational interests. Bil was a sportsman, who loved hunting, fishing and the great outdoors. Bil also enjoyed recreational sports like trap and skeet shooting, bowling and softball, and sponsored many of the teams he played on. The patches and trophies from these activities are too numerous to mention, which should give you an idea what kind of coach/player/sponsor that he was. 
Bil was always the life of the party and would always make sure everyone was well fed. Usually, there was also work involved, usually cutting and splitting wood, or some other chore that was too big for even Bil. That was a testament as to how many friends and family that Bil had that cared for him. 
Bil always enjoyed activities that brought him together with friends and family, namely pickling veggies and smoking meat. Historians will always wonder about the amount of pickled vegetables, spicy green beans, pickles, and other experimental pickled concoctions (ham, garlic, green peppers, salsa) he made. Bil's smoked meats will be missed, but also remembered for their quality and spot-on taste.
After living most of his life in Minnesota, Bil bought some property in Central Wisconsin, and enlisted family and friends to clear trees to make room for his home. When the gigantic brush piles were lit, the temperature in New Auburn rose 15 degrees, and you could see them from outer space! Cutting wood is thirsty work, and Bil was drawn to a little bar called DNA Club 53, where he met Dewey and Andrea Lotts. He felt welcomed from the start, and made more friends quickly. Randy, Brenda, Tim and Julie and many other New Auburn locals became his close friends….friends he could rely on.
But one of Bil's favorite things were his adventures to Montana. His eyes would light up whenever he heard the word Montana! He would talk about going to Montana all year long in anticipation of the hunting trip. In Montana, Bil hunted deer, pheasants, sharptailed grouse and Hungarian partridge with family, friends, but most frequently with his son BJ. The hunting trips were less about how many animals you got, but the experiences, and time spent together. Bil met many great friends (Larry, Butch, Bill and Candace) out in Montana. More recently, Bil and BJ went on gambling adventures to Deadwood, S.D., as well as Billings and Bozeman, Montana.
Bil is survived by and will be especially missed by his sons: BJ (Cyndi) and Bob (Stephanie Shuey); granddaughters: Kasey (Jake) and Ally; sisters: Frances (Frankie) DePew, Janice Reihe, Lorraine (Jeep) Helfman; brother: James (Terry) Ford; as well as nieces, nephews, relatives and friends too numerous to mention, but you know who you are, and what you meant to Bil.
Memorial Visitation will be held from 2-5 p.m. on Saturday August 21, 2021, with a Memorial Service beginning at 3:30 p.m. at Chippewa Valley Cremation Services – Celebration of Life Center, 1717 Devney Drive, Altoona Wis., 54720. And, since Bil wasn't a fan of the suit and tie, and it's summer, he would have wanted you to be comfortable, so, wear whatever you feel comfortable in.
Chippewa Valley Cremation Services – Celebration of Life Center in Altoona is assisting the family with arrangements. Online condolences can be left at www.chippewavalleycremation.com.