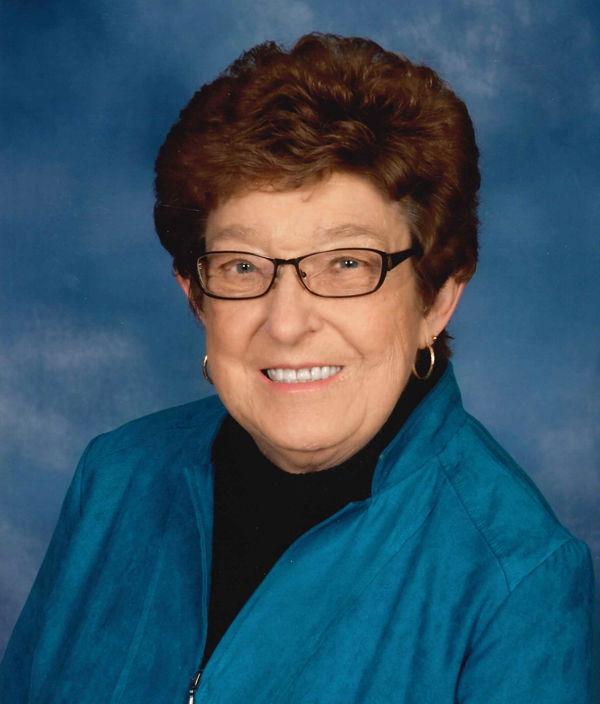 Diane Y. Peil (Getzie) age 80 passed away peacefully at home surrounded by her family on Wednesday, February 12, 2020. Diane was the social butterfly and rock of our family always staying in touch with everyone and encouraging our close ties. She had many close friends and always enjoyed lunches, long phone conversations, and get togethers with all of them. She loved baking, sewing, travelling, and our many family events. She baked a mean chocolate chip cookie, a to die for carrot cake and an unmatched stuffing maker for the yearly Christmas gathering. She travelled all over the world, and had many great adventures.
Diane was born on December 12, 1939 and graduated from Chi-High in 1957. She married Merlin J Peil in Chippewa Falls on May 9, 1959. She lived in Great Falls Mont. before moving to rural Bloomer in 1963. There she lovingly raised her family of 4 daughters.
Diane attended CVTC and earned her degree in office management. She worked in many places over the years including Northern School Supply Co. in Montana, Chippewa Shoe Co. in Chippewa Falls, Mason Shoe Co. in Chippewa Falls, JR Welch Accounting Firm in Eau Claire, and most recently PQS in Eau Claire. She was active in the Bloomer Women's' Club as well as the Bloomer Food Pantry, Meals on Wheels, and the First Congregational UCC Church in Bloomer. Over the years she was also active as a volunteer for Hospice, and a member of the Red Hat Society as well as many other clubs and organizations. In her younger years, she also loved to play cards with her many friends.
Diane was preceded in death by her parents: William (Luella) Getzie; grandparents: John (Matilda) Lloyd, and Walter (Rose Alice) Gallow; daughters: Kelli K. Meyer and Kristin S. Kramschuster; as well as granddaughter Samantha A Meyer.
She is survived by her husband Merlin J Peil; her daughters: Dawn (Randy) Benson and Tanya (Rob) Ostlund; son-in laws: Steve Kramschuster and Quin Meyer; grandchildren: April (Mikal) Rutten, Christopher (Krystal) Benson, Jason (Elise) Benson, B.J. (Mandy) Peil, Nick Meyer, Nathan (Kayleigh) Steinmetz, Jessica Steinmetz (Kevin Farnham), Shannon (Ben) Cox, Amanda (Todd) Wagner, Kirstin (Evan) Olson, Matthew Ostlund, Zach (Carrie) Kramschuster, Booker (Ali) Kramschuster, Dylan (Missy) Kramschuster; as well as 20 great grandchildren; and her brother Ronnie Getzie.
Diane…. our wife, mother, grandmother, and friend… you will be missed more than you will ever know, and we will carry you in our hearts forever.
A memorial service will be held at 1:00 p.m. on Sunday, March 1, 2020 at First Congregational United Church of Christ, 1324 15th Ave., Bloomer with Pastor Pauline Bangle officiating. A celebration of life will be at the Bloomer Golf Course, 118 13th Ave to follow.
Cremation Society of Wisconsin, Altoona is assisting the family with arrangements. Online condolences may be shared at www.cremationsociety-wi.com.