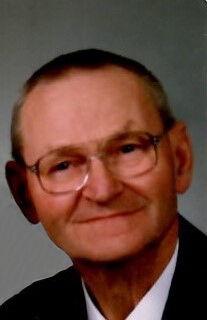 Gail Louis Mikula, age 92, passed away on August 3, 2020 at Country Terrace in Bloomer, Wis.under the tender loving care of Heartland Hospice. He was born on May 30, 1928 to George and Cora (Dawn) Mikula. He was united in marriage to Delma Holman in Shell Lake, Wis. on May 27, 1950. Gail farmed most of his life, beginning on a farm in Stone Lake, then on to Barron, Wis. and finally purchasing his farm just north of Bloomer, Wisconsin in 1958. Gail and Delma farmed in Bloomer until they retired in 1990. Upon their retirement, they took up camping and traveling. They made many great friends along their way across our country. Their winters for several years were spent in the warmer climates. They always returned to the Midwest to spend time with their children, grandchildren and great grandchildren. In 2017, Gail and Delma moved into Country Terrace in Bloomer, Wisconsin. Gail enjoyed the company of the very loving staff and his new neighbors. He took part in all the activities such as playing cards, listening to music, daily exercise and all other activities that were planned up until the time of his death.
Gail is survived by four children: Franklin (Deborah) Mikula of Stone Lake, Wis., Tim (Roxie) Mikula of Bloomer, Wis., Helen (Tim) Kringle of Cokato, Minn., Jim (Martha) Mikula of Bloomer, Wis.; grandchildren: Franklin Dale Mikula of Cokato, Minn., Matthew (Amanda) Mikula of Spooner, Wis., Shannon (Rusty) Chute of Hillsboro, Wis., Shawn (Karli) Mikula of Hampstead, N.C., Ashley (Kevin) Byrne of Moorhead, Minn., Emily Kringle of Chicago, Ill., Adam Kringle of Cokato, Minn., Ruby Mikula, Jimmy Mikula and Cora Mikula, all of Bloomer, Wis.; thirteen great-grandchildren and another due to arrive in December, 2020.
He was preceded in death by his parents: George and Cora; wife: Delma; brother: Earl Mikula; sisters: Freda (Keith) Walter, June (Alvin) Holman, Phyllis (Harvey) Hendricks and Joyce (John) Anderson.
A visitation will be held at Olson Funeral Home in Bloomer on Sunday, August 9, 2020 from 9 to 11 am. There will also be a visitation and lunch served at the First Baptist Church in Hillsdale, 743 14 3/8 St, Hillsdale, Wis. from 1 to 2:30 pm on Sunday, August 9, 2020. The funeral service will begin at 2:30 p.m. with burial at Evergreen Cemetery in Stone Lake, Wisconsin immediately following the service. Please follow social distancing guidelines. Online condolences may be expressed at olsonfuneralhomebloomer.com
In lieu of plants and flowers, the family requests memorials be directed to the Cystic Fibrosis Foundation.