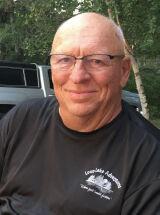 With great sadness our husband, father, grandfather and friend Gary "Mad Dog" Krenz passed away unexpectedly on November 24, 2021.
Gary was born in Bloomer, Wis. on December 14, 1946. After graduating from Bloomer High School, he attended and graduated from the University of Wisconsin-Eau Claire with a degree in English and a minor in History. He also earned his Master's Degree in Special Education. He began his teaching career in Cornell where he met his future wife Connie. He proceeded to spend the rest of his professional career teaching at DeLong Middle School and North High School, both in Eau Claire.
Gary married Connie on August 3, 1974. Together, they raised four wonderful children in Bloomer. Gary loved travel and adventure, starting by traveling throughout Europe after graduating college, running with the bulls in Pamplona, Spain, hunting big game outside of Johannesburg, South Africa, fishing for bass and piranhas in the Amazon River, catching Amberjack and Grouper on the western side of Panama and much more. He was also an athlete, avid fisherman and hunter, reader, storyteller, coach, prankster, and leader of the notorious gang, the Northside Tuffies. He also served on the Bloomer School Board and was elected as a city councilman.
He was the greatest husband, father and grandfather. He was thoughtful, kind to all, loving, generous, humorous, wise, joyful, visionary, curious, and a wonderful person who was accepting of everyone. He cherished sharing his love of nature with his family. 
Later in his life, he reveled spending every opportunity teaching and playing with his grandchildren. Even though Gary traveled all over the Earth, his favorite place in the world was looking over Loon Lake in his chair at his cabin. The world was a better place with him in it and his family is really saddened by the loss of their patriarch.
Preceded in death by: his father: Eldon; his mother: Leona and various aunts, uncles and cousins.
Survived by his wife: Connie; daughters: Kris (Ramin), Becky (Jason), Laura; son: Kevin (Megan); grandchildren: Ella, Ava, Nika, Cashton, and Olivia.
Please join the family at 4:00  p.m. on Saturday, December 4, 2021 at the Bloomer Golf Course to celebrate his life. In lieu of flowers, please contribute to a charity of your choice.
Memories can be sent to his wife Connie at their Bloomer address.
Unvaccinated guests will be required to wear a mask.