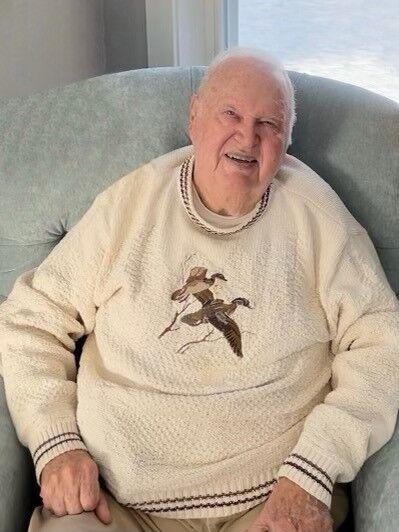 Donavin L. Dutton, 89, passed away peacefully at his home on January 2, 2022.
He was born May 31, 1932, in Bloomer, Wis. to Leon and Nellie Lorraine Dutton. Donavin married Joanne Braden on January 8, 1951, in Stillwater, Minn. and they were blessed with 62 years of marriage.
Don graduated from Bloomer High School in 1950. While there, he enjoyed playing football, basketball and baseball. He was employed by Mondovi Farmers Store, Mondovi Herald-News, and the Bloomer Advance. His primary career was with American Family Insurance as an agent in Bloomer for 31 years. In his free time, Don enjoyed bowling, golfing and fishing. Family was very important to Don and he cherished time spent with his children and grandchildren.
He was a loving husband, father, grandfather, great grandfather and father-in-law and will be dearly missed.
Don is survived by four sons: Kerry (Jackie) Dutton, Eau Claire, Wis.; Daniel (Jacki) Dutton, Bloomer, Steven (Karen) Dutton, Wheaton, Ill.; Curtis (Sheila) Dutton, Bloomer; two daughters: Bonita (Edward) Green, Farmington, Minn., Jennifer Howard, Charleston, W. Va.; 16 grandchildren, 26 great-grandchildren and 2 great-great grandchildren; three sisters: Carole Dutton, Bloomer, Arlene, Dennis, Bloomer and Barbara Dutton, Bloomer.
He is preceded in death by his parents; wife: Joanne, and infant grandson: Andrew Green.
Private services were held on Friday, January 7, 2022, with a public Celebration of Life at a later date.
Thompson Funeral Home and Chippewa Valley Cremation Services of Bloomer is assisting the family with arrangements. To offer online condolences please visit, www.thompsonfuneralhome.com.