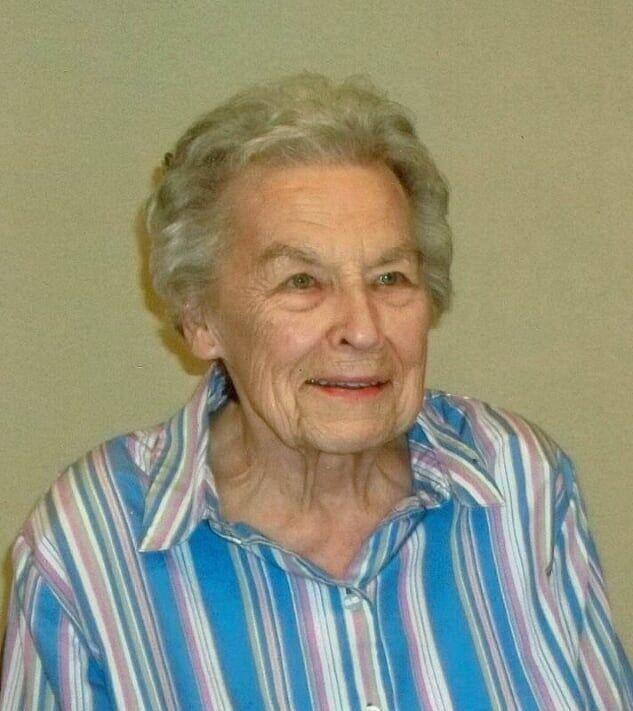 Virginia Joyce Steffek, 94, of Island Lake, passed away on Sunday, November 8, 2020 at Meadowbrook Nursing Home in Chetek.
Virginia was born in Lindsey, Wis. on June 23, 1926 to Alfred and Sigrid Marion Bentz. She grew up in Lindsey and graduated from Marshfield High School. In her younger days, she worked at most businesses in Lindsey; the Post Office, Grocery Store, Tavern, and Bean Factory. She then worked at her Aunt Jewel's Wawona Lodge, in Woodruff, Wis. Her father gave her the nickname Tootie and it stuck with her the rest of her life.
On September 13, 1947, Virginia married Mike Steffek, in Nasonville, Wis. and they celebrated 60 years together. Mike and Toots owned and operated Mike's Place at Island Lake for over 40 years, where they made many lifelong friends. Together they had 3 daughters. Toot's family loved her pumpkin pies for the holidays and her grandkids voted her the best brownie maker ever. She loved doing puzzles, taking fall drives, clipping recipes, bird watching, and listening to polka and country music, but most of all she loved spending time with family. They meant the world to her. Toots moved to Chetek after Mike passed away and resided at Meadowbrook for the last 2 ½ years.
All who knew her, will miss the caring, kind, and special person she was. She was the best mom, wife, sister, gramma, and great-grandma.
She is survived by 3 daughters; Sandra Neidermann (Rich Mujwid) of Cumberland, Judy (Larry) Armstrong of Weyerhaeuser, and Connie (Dick) Prorok of New Auburn, 5 grandchildren; Chris (Heather) Neidermann, Josh (Kari) Neidermann, Stefanie Magalong, Sara (Brett) Jones, and Alison Prorok (Mike Belland), 5 great-grandchildren; Hunter, Parker, Makenna, Brooklyn, and Sophia, 1 brother; Robert Bentz of Golden, Colo. and 1 sister; Nancy Bentz of Cumberland, and many nieces and nephews.
Virginia was preceded in death by her parents, husband Mike, an infant sister, and a nephew.
Funeral services were held at 11:00 am on Saturday, November 14, 2020 at Nathaniel Lutheran Church in Bruce, Wis. with Pastor Ralph Marquardt officiating. Burial followed at the Island Lake Cemetery. Nash-Jackan Funeral Home assisted with the arrangements.