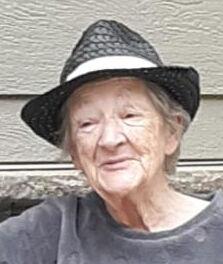 Joyce A. Kramschuster, age 83, passed away on Tuesday, August 3, 2021 at Care Partners in Altoona.  She was born on November 23, 1937 in Chetek to Ellsworth and Ruby Ann (Dean) Mallo.  She married Lee Kramschuster on February 15, 1957 in Spooner.  Joyce worked on the farm with her husband, Lee and was an amazing mother to their nine children.  She enjoyed gardening, especially flowers, and bird watching.  Her greatest joy in life was taking care of and spending time with her family.
She is survived by her sons: Michael (Karie Mitchell) of Bloomer, Steve of Laramie, Wyoming, Jim (Rikki) of Burlington Wis., Gary (Staci Seibel) of Bloomer, Bill of Bloomer; daughters: Brenda (Larry) Yohnk of Bloomer, Mary Jo (Richie) Schley of Bloomer, Kathy (Keith Urban) Tallman of Altoona, Linda (Robert) Hesson of Caldwell, Ohio; brother: Bob Mallo of Algoquin, Ill.; sisters: Ruth Ann Green of Lodi, Wis. and Linda Kibler of St. Paul, Minn.; 20 grandchildren and numerous great grandchildren.
She was preceded in death by her parents:  Ellsworth and Ruby; husband:  Lee; daughter in-law: Kris Kramschuster; grandson: Devin.
Funeral Services will be held on Saturday, August 14, 2021 at 3:00 p.m. at the Olson Funeral Home in Bloomer with a visitation one hour prior to the services. Interment will be at a later date. Online condolences may be expressed at olsonfuneralhomebloomer.com.