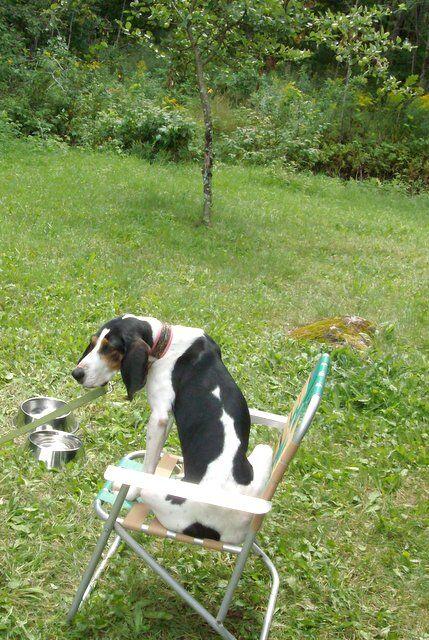 Sophie the Hound passed in her sleep on November 13 at 12 yrs. young. Sophie was a rescue from the caring arms of Dunn County Humane Society (DCHS) who knew her as Sushi. She was a Treeing Walker Coon Hound who walked every block of Bloomer – 365. She loved the folks she met along on the way – the postal worker who would go out of her way to cross the street to greet her, the taverns who gave her beef sticks, banks who gave her biscuits, the hardware store who gave her smiles.
As an escape artist hound, I could write a book on my adventures tracking her down, but she could write volumes on what she was doing on her adventures? No matter the weather, in winter, in a blink, she'd be gone only to later learn she was at the local feed mill lying on a warm office floor. When 'on the run' she could be 10 miles in any direction? She was once fully up in to an old, 25' tall, stump pile. She escaped Juniors Tavern and was found by the then owner of the Good Year store at his home miles away, found (2 times) by a gentleman who volunteered at St. Paul's, and by the Bloomer PD. The BPD's first encounter with her was a time when she was skunked and I had to pick her up at the station, which wreaked of skunk. I was new to Bloomer and that didn't make such a good impression? The officers would later just take her to the pound after a skunking, hand me the keys, and tell me 'you go in and get her'. From then on the PD would simply pull in to my driveway with her.
Sophie loved visiting all the Bloomer parks, War Memorial, the walkway over the dam and around the lake, a fellow dog walker Melissa, and most of all woman and children. Sophie was treated so well by the staff at DCHS that she never forgot them and carried every one of them in her heart, and would show every woman she met that same love she had for her early caretakers.
I thought I was a hard a**, there were times in the beginning when my eyes would tear up in frustration asking Sophie 'what am I going to do with you'? Now that she's gone, I tear up thinking I wish I had just one more day with her.
If you knew Sophie or just love hounds, send up a smile or howl. And if you're near Menomonie sometime, stop by DCHS and drop off a bottle of bleach or any supply - they are rescue heroes – they recued me.
Thank you Bloomer, Jim 'lefty' Murray.