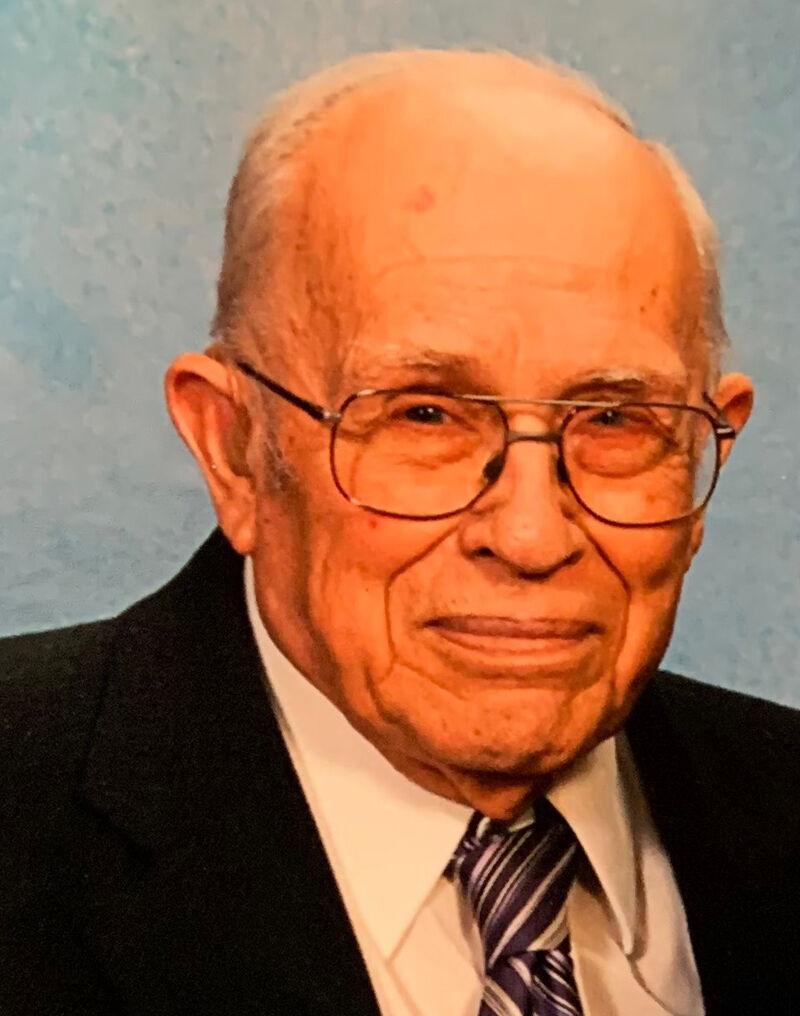 Vernon F. Hofmann, 90, passed away Tuesday, February 16, 2021 at the Premier Estates of Pierce. 
Vernon was born on May 20, 1930, rural Norfolk, Neb.to George and Laura (Mecke) Hofmann. He graduated from Norfolk High School in 1948. He married Gaynel (Volk) Hofmann April 22, 1951 at St. John's Lutheran Church in Battle Creek, Neb. After marriage, Vernon and Gaynel lived in Norfolk and he farmed in Norfolk, Pierce, and Cumming County. In December 1956, the family moved to Colfax, Wisconsin where he worked as a hired hand until later farming on his own. In 1966 Vernon worked at The Farmer's Store in Bloomer, Wis. Vernon was also a part time volunteer EMT, drove school bus, and worked at Rock Funeral Home, in Bloomer. In September of 1974 the couple and son Daniel moved back to a farm in rural Norfolk, Neb. Vernon went to work at Lynn and Al's and later Lynn and Son's. Vernon then worked for Gillette Dairy in Norfolk as an area and local route driver and also worked in production at Gillette until he retired in 1993. Vernon drove school bus for Lutheran High Northeast and Battle Creek Public Schools as a route driver and for their school activities. Vernon enjoyed playing cards and traveling. He was a member of Christ Lutheran Church, Norfolk, and held numerous church offices throughout his life.
Survivors include his spouse: Gaynel Hofmann of Norfolk; children: Richard (Cindy) Hofmann of Bloomer, Wis., Gerald (Linda) Hofmann of Tabor, S.D., Cheryl (Jim) Bohl of Bloomer, Wis., Daniel (Suzanne) Hofmann of Norfolk, Neb.; 10 grandchildren; 15 great-grandchildren with one on the way; sisters: Delores Freudenburg of Madison, DeLene Freudenburg of Madison, many nieces and nephews, and foreign exchange student: Hans Leipoldt of Netherlands. He was preceded in death by his parents George and Laura; sister: Marion Hofmann; three brothers-in-laws: Ervin Freudenburg, Harlan Freudenburg, and Gilbert Meierhenry.
The Memorial service will be held at 10:30 a.m., Monday, February 22, 2021 at the Christ Lutheran Church in Norfolk with Rev. Mike Moreno officiating. Inurnment will be a private family service at a later date at Hillcrest Memorial Park Cemetery, Norfolk. Visitation will be from 2:00-4:00 p.m., Sunday, February 21,2021 at the Stonacek Funeral Chapel in Norfolk. The service will be live-streamed on the Stonacek Funeral Chapel Facebook page. In lieu of flowers, the family requests that memorials be made to the Christ Lutheran Church or Lutheran High Northeast.
Masks and social distancing are required for the visitation and service. Stonacek Funeral Chapel in Norfolk is in charge of the arrangements. Condolences may be expressed to the family on-line at www.stonacekfuneralchapel.com.