After 22 years of managing the Bloomer/New Auburn Area Food Pantry, director Roberta Poirier is retiring. Her leadership and passion for "Ending Hunger One Bite at a Time" has truly been an example for all of us. Roberta's mother, Estelle Davis, was a key member of this community who worked with others to establish a local food pantry. With support from community leadership at the time, the Bloomer Food Pantry opened its doors upstairs in the new fire hall on April 1, 1983. Only one family was served that day.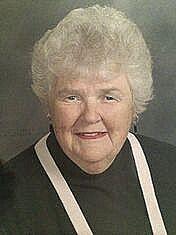 Roberta, a retired nurse/midwife, took over management of the Pantry in 1999 and the Pantry began offering families free choice of the foods that were available. This minimizes waste of unwanted food and recognizes people's dietary needs and preferences. The number of clients who came to receive food grew and so did their needs. Roberta expanded the hours, recruited more volunteers and brought in more selection of products. She began writing a column in the local paper talking about the needs of the Pantry and the concern for our neighbors who were food insecure. As the volumes grew so did our services. Roberta always wanted the Pantry families to be able to celebrate holiday meals like everyone else, so she added some special foods just at holiday time. She started a program to distribute children's school supplies in the fall and birthday boxes for those who were under the age of 14. Many families shared that was the only gift their child would receive on their birthday. She added an insulated grocery bag program for new clients so that more refrigerated or frozen foods could be shared and transported home safely. In 2006 Roberta and her team began offering a Sunday Social with a free meal once a month at our local Senior Center and it became an extremely popular gathering. For a period, she worked to have a bus service for individuals from New Auburn to come to our pantry when they had no other means of transportation. After about a year, this service was discontinued, and a satellite pantry was established in New Auburn. Roberta recognized that some households with children were food insecure and not coming to the pantry for food. She worked with the schools to introduce the Weekend Kid's Meals to both Bloomer and New Auburn school districts. She also established a home delivery program called the "Go Getters" to distribute food to shut-ins and those who could not come to the Pantry for various reasons. Throughout her career as the Director of the Food Pantry she always looked for new and innovative ways to serve our patrons. To make it easier for them to obtain food for their families and to not go hungry.
In 2007 the pantry obtained our 501(c) designation as an independent non-profit organization. Roberta realized that this would an important step to make it easier for grant writing and participation in the government program for distribution of commodity foods. Also in 2007, the Pantry moved to a vacant area in the local creamery. This provided the pantry with much more space, a large parking lot and a visible, easy to access location.
In late 2012, Roberta and the Board of Directors began looking for a more permanent location for the Pantry and developed a fundraising campaign. With the support of many in this community, In the spring of 2014 the current building on Jackson Street was acquired, and remodeling and construction began. Later that year, clients started receiving food from this location. And continue to receive food each week still today. Annually, our Pantry provides meals for over 7,000 households visits per year.
Roberta's legacy is undeniable. Thank you, Roberta, for your hard work and dedication. Congratulations on your retirement.