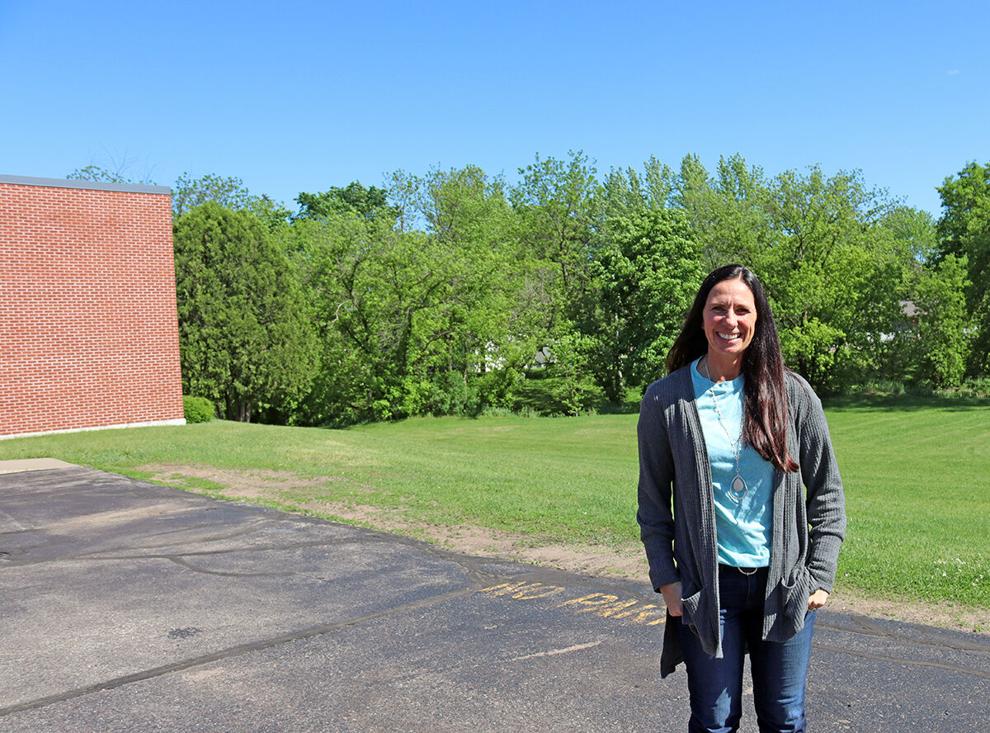 Menomonie, Wis. — A University of Wisconsin-Stout alumna and family and consumer sciences/health teacher at Bloomer High School has been named a 2021 National Merit Finalist by a national organization.
"It gives us great pleasure to congratulate you as the American Association of Family and Consumer Sciences 2021 Teacher of the Year Merit Finalist for your program, Food Insecurity in Our Community," wrote Deborah Will, 2020-21 AAFCS Awards and Recognition Committee Chair, and Nancy Bock, AAFCS Executive Director, in a letter to Charlene Kelley, Bloomer High School Family and Consumer Science and Health Teacher.
Kelley, who graduated from UW-Stout in 1999 with a degree in home economics education, now known as family and consumer sciences education, will be recognized at the virtual national convention of the American Association of Family and Consumer Sciences held Wednesday, June 16, to Friday, June 18.
"I chose UW-Stout because of its proximity to Elk Mound and my mom, Bonni Falkner, worked at the university," said Kelley, an Elk Mound High School graduate. "I knew I wanted to be a teacher. I really liked career and technical education. I loved the family relationship piece of family and consumer sciences education."
Falkner, of rural Elk Mound, recently retired as budget manager in the Provost's Office.
Kelley grew up playing teacher as a child, but her career aspiration solidified after she attended a teacher camp in Wisconsin when she was 16 years old.
"It was such an amazing experience," Kelley said. "I just loved it. There was a lot of team building and arts and crafts time. It was a lot of learning to create curriculum and how to communicate with other people. I knew after that I wanted to be a teacher. It just felt right."
Kelley enjoys family and consumer sciences because she teaches life skills such as creating nutritional meals and financial literacy.
"Everything I teach is practical," Kelley said. "They will be able to use it every day. It's one thing to choose to buy food that is already premade or to eat in a restaurant, but I want them to have a choice and have the skills to make a meal at home. It is practical knowledge I know they are going to use in their future."
Learning to deal with finances is a vital skill as well, Kelley said.
"Financial literacy is huge right now," she added. "I teach juniors and seniors so they can do their taxes, budget, understand a checking account and credit card."
Her program at Bloomer that she got nominated for focuses on teaching students about poverty and food insecurity and how it looks in other Chippewa Valley communities. A future issue of the Bloomer Advance will feature an article on Kelley's "Food Insecurity in Our Community" program.
Professor Emeritus Judy Rommel, of the former B.S. and M.S. home economics programs, said Kelly was deserving of national recognition as an outstanding educator.
"To me, Charlene … epitomizes the best of the home economics/family consumer sciences tradition of UW-Stout," Rommel said. "Her education degree was enhanced by a minor in health education. Charlene engaged with standards-based grading when it was adopted in the Bloomer school district. She has presented on the topic at the national conference. She continues to support the family and consumer sciences program at UW-Stout by hosting student teachers and speaking to education classes on campus."
"Charlen's passion for teaching, and more specifically, teaching Family and Consumer Education and Health, is on display every day in her classroom," said Bloomer High School principal Chad Steinmetz. "She is very deserving of this recognition due to her leadership in her field and her ability to provide meaningful experiences to her students. Our students now must take a Financial Literacy course for graduation, and Charlene was critical in helping us implement this requirement."
Kelley, who won the 2020 Wisconsin Family and Consumer Sciences Teacher Of The Year award, was surprised to be a National Merit Finalist.
"This opens a lot of doors to get speakers to come to talk with students and show other people what we have here," Kelley said, noting Sieg and fellow teacher Alyson Zwiefelhofer, a UW-Stout family and consumer sciences education graduate, have been instrumental with the class projects.
Lori Henry, a family and consumer sciences teacher at Spring Lake Park High School near Minneapolis, won the AAFCS National Teacher of the Year.
One of Kelley's goals is to increase the number of classes offered at her high school that give dual college credit to students. She teaches a Culture of Health Care class that gives students two credits at Chippewa Valley Technical College and a culinary class that gives students food safety and sanitation class credits. She wants to create such partnerships with UW-Stout classes too that would open the doors for more students to attend a four-year college.
"Charlene is a great team player who collaborates with our other Career and Technical Education teachers to provide dual credit opportunities for our students, meaning they receive both high school and college credit," said Steinmetz. "She continues to explore additional opportunities and build stronger relationships with our area post-secondary institutions. Charlene approaches her teaching with a growth mindset; she is always looking for ways to improve our program and what courses we can offer to students. I am very happy that she has been recognized for her leadership and her commitment to our students."
"We're in the business of people," Kelley said. "This is the ultimate job to work with young people. I like listening to and talking to them. I get to help them with scholarships and college applications. I know we as teachers make a difference. There isn't a teacher in this school building who hasn't had an impact on someone. I don't think there is a better field for me."
UW-Stout offers both on-campus and online degrees in family and consumer sciences education. UW-Stout is Wisconsin's Polytechnic University, with a focus on applied learning, collaboration with business and industry, and career outcomes.