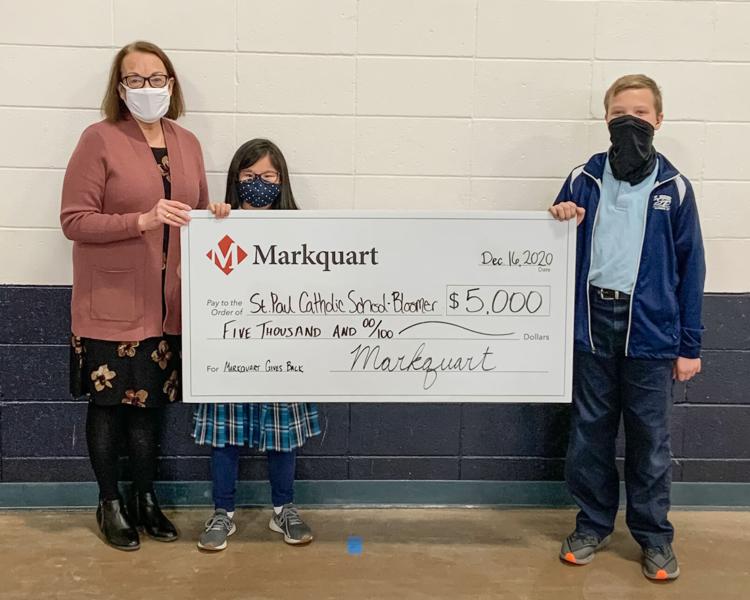 St. Paul's Catholic School was one of 10 of the organizations in the Chippewa Valley to receive a $5,000 donation from the Markquart Motors Gives Back Program. Marquart took votes on what 10 organizations should receive $5,000 from the business. St. Paul's Catholic School in Bloomer was one of the organizations that received enough votes to earn the money.
"St. Paul's Catholic School is extremely grateful to Markquart Motors for sponsoring the Giving Back Program where we earned one of their $5,000 donations to our school. These funds will definitely be put to great use, especially with the special challenges of this year's COVID-19 pandemic," said school principal Jackie Peterson in a press release.
"Here at St. Paul's Catholic School we are privileged to team with amazing families and the area community to guide our students' education. Our mission stresses the importance of Faith, Leadership and Excellence for our students to lead successful lives. We believe that having a strong relationship with God, instilling high expectations, a well-grounded work ethic, and service to others guides our children to be well rounded," said Peterson.
She also said, "It is truly remarkable that Markquart Motors is giving back during these challenging times. Our families, students, and staff will benefit greatly by this huge donation. These extra funds will assist us with providing tuition support; further enhancing our technology and curriculum; and purchasing additional safety protocol.
"We want to extend our sincere appreciation to everyone that voted for us and the kindness of Markquart Motors! We wish everyone many blessings and a very Merry Christmas!" said Peterson.