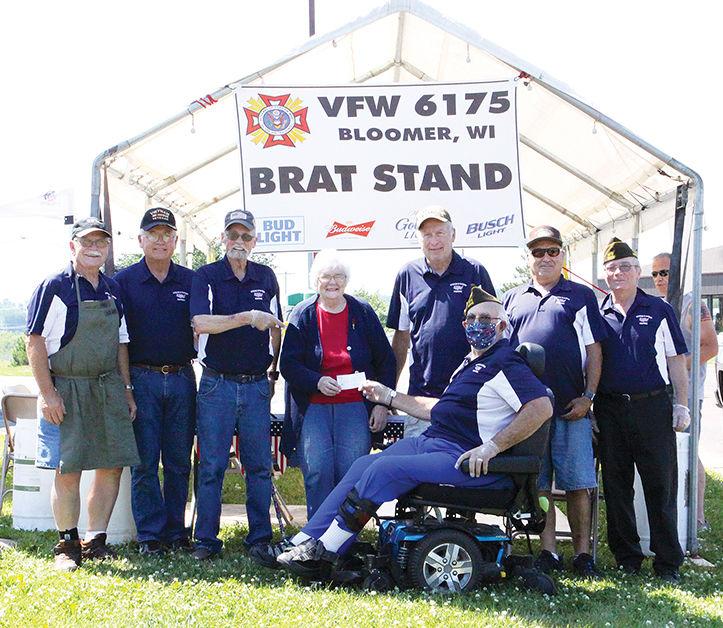 Pictured above, VFW member Tom Valley presents a $200.00 donation to Roberta Poirer for the Bloomer/New Auburn Area Food Pantry 100 Gallon Milk Challenge. From left is, Ted Derks, Frank Laufenberg, Charlie Rubenzer, Roberta Poirer, Dave Clemens, Tom Valley (front), Jim Sabish, and Dale Bergeson. Missing from photo is Lucinda Solie, Jim Hudacek, Mike Baier, Paul McElroy, Al Michels, Dave Baier, Dave Schleppenbach, Dave Steinmetz, Jim Zwiefelhofer, and Derald Tuschl.
The Bloomer Veterans Of Foreign Wars (VFW) Post 6175 would like to thank everyone who supported their brat stand on Thursday and Friday, July 2–3. Over 700 brats and hot dogs were sold over the two day time period. The money goes back to the community for scholarships, for the veterans home in Chippewa Falls, to the Bloomer Fire Department and Bloomer Community Ambulance service. The Bloomer VFW also participates in the Bloomer rope jump contest, and local parades.
Remember, meetings are every second Thursday of the month at 7 p.m.