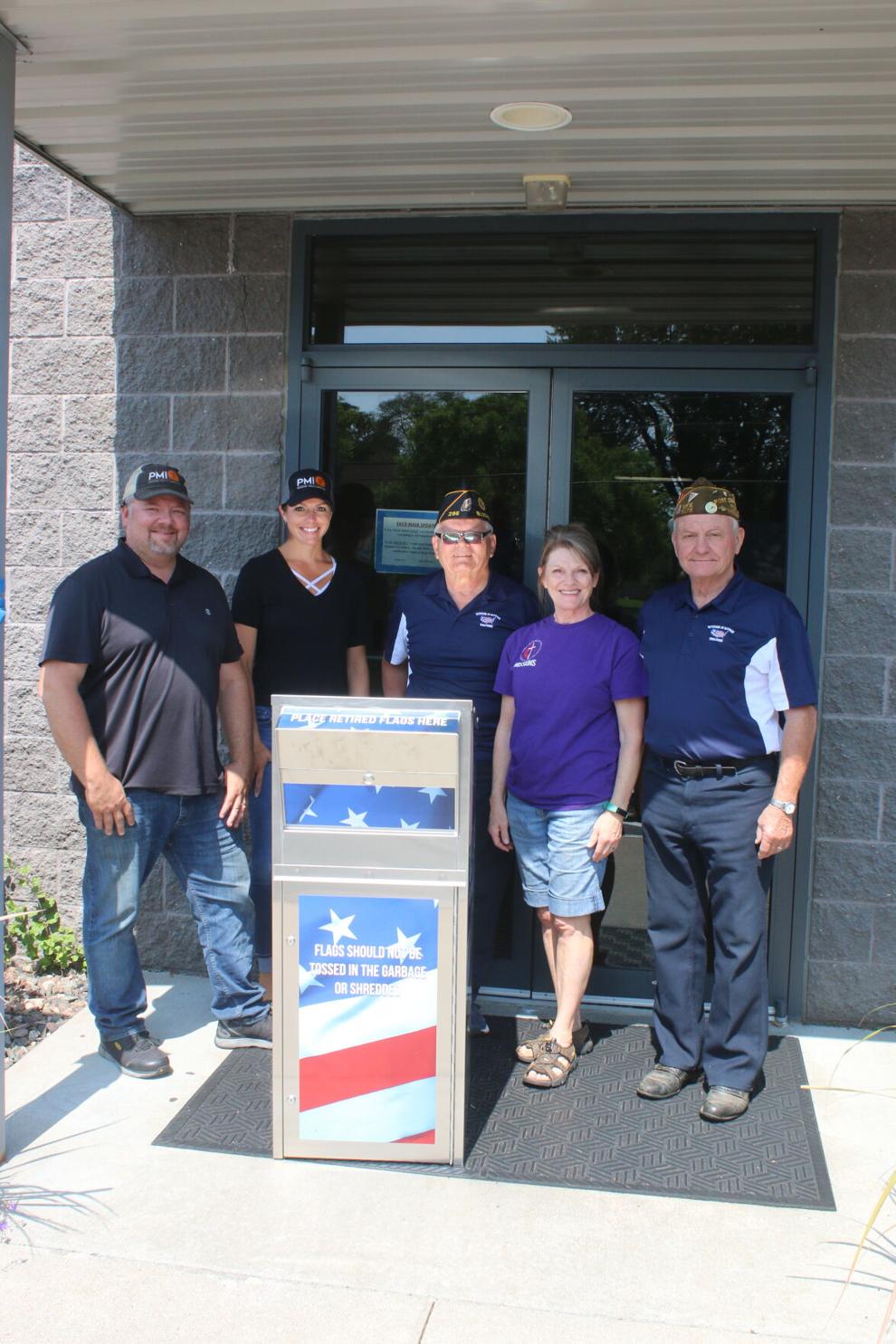 Veterans groups in Bloomer recently received the generous donation of a shiny new drop box to receive old worn out American flags in need of retirement. 
The American Legion Post 295 of Bloomer, assisted by the Bloomer Veterans of Foreign Wars and the Bloomer AMVETS, holds a flag retirement ceremony every year. Throughout the year the groups collect flags in need of retirement from the public by way of a convenient drop box located at the Bloomer Area Aquatic and Recreation Center on 17th Avenue.
The donation of a new drop box by PMI came about through a series of events when a used post office box was donated to the Bloomer veterans groups to replace their old flag drop box. Jim Zwiefelhofer, of the Bloomer American Legion, contacted Maryann Gumness, art teacher at the Bloomer High School for help repainting the post office box. Gumness noticed that the box was in need of repair but after consulting with the technical education department it was determined that the repairs were beyond the scope of the school's capabilities. Gumness contacted Processed Metal Innovators (PMI LLC.) to ask for their help and advice. After the PMI team inspected the old post office box, PMI president Chris Conard decided the best course of action was to send the box to recycling and donate a new box to the veteran's flag retirement project.
The Bloomer American Legion, Bloomer VFW and Bloomer AMVETS extend their appreciation to PMI for the wonderful new box, to Mike Oldenberg for the post office box donation and to Gumness for her work in coordinating efforts to repair the post office box and subsequent donation of the new box.
Reminder: The Bloomer veterans organizations will be holding a flag retirement ceremony on Thursday, Sept. 2 at approximately 7:30 p.m. at the Bloomer Veterans Club House on 13th Avenue (by the golf course). If you have a worn out American Flag or Branch of Service Flag that you would like to have properly disposed of, please drop it off in the drop box at the Bloomer Area Aquatic Center before Thursday.