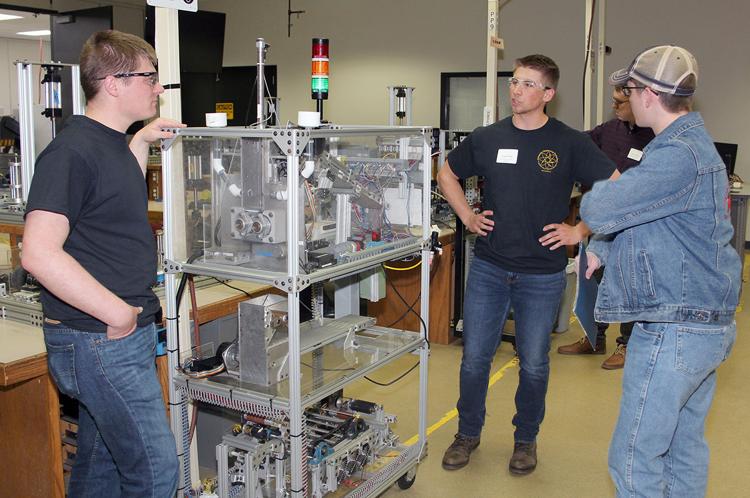 Eau Claire, WI – Less than two years after graduating from Bloomer High School, Riley Henneman stood next to the rubber mixer he built at the Chippewa Valley Technical College Manufacturing Education Center. The second-year Automation Engineering Technology student was prepared to demonstrate it to visitors at CVTC's Manufacturing Show Thursday, March 12.
"It's crazy the stuff you learn in two years," Henneman said. "When you come in your first year there's a lot to take in, and by the time you're done, you have a wealth of knowledge."
Showing the public the high level of skill and technology in today's manufacturing is one of the purposes of CVTC's annual Manufacturing Show. The show drew high school students, parents and community members alike for a firsthand look at modern manufacturing through CVTC's Automation Engineering Technology, Industrial Mechanical Technician, Machine Tooling Technics, Manufacturing Engineering Technologist, Mechanical Design, and Welding programs.
Over 50 local manufacturing companies were also represented with display tables highlighting their products and job opportunities. Earlier in the day, companies recruited CVTC students at a manufacturing career fair.
Henneman explained his scaled-down rubber mixer is designed to melt and merge different types of rubber to create a new rubber product with specific properties for a given task. "It has electronics, programmable logic controllers (PLC), a mechanical conveyer system, pneumatic valves and electric relays," he said.
Nearby, Alan Windsor, 48, of Spring Valley was demonstrating a game he created in which the competitors who reacted fastest to a changing light would crush the other person's egg. "The instructor said to make an egg crusher and I had to follow certain criteria," he said. "It has a DC power supply, PLCs and a solenoid for the pneumatic system. Then I have optical sensors and stack lights."
Originally from Plum City, Windsor enrolled at CVTC after retiring from a U.S. Army career.
Stepping up to play the game was Isabel Gibson of Eau Claire, who came with her mother, Renee, and brother, Charlie. Renee said they enjoy the Manufacturing Show and other events at CVTC. "I used to work at an agency that partners with CVTC," she said. "I take the kids to the open houses and events like this."
Many parents brought their children who are considering enrolling in CVTC programs. Dena Boiteau of Chippewa Falls was with her son, Chris Engel, and his father, Bryn Engel.
"This is an opportunity for Chris to see his options," she said. "Right now he's enrolled in Machine Tool for next year, but he may change."
"This is an opportunity to show off the technology of modern manufacturing," said CVTC Dean of Engineering and Skilled Trades Jeff Sullivan. "The Manufacturing Show brings together alumni and people in the area, and shows off student projects. Our manufacturing partners come in and show the things they're doing."
Representatives of the manufacturers present said they have long had a strong relationship with CVTC, which they depend on for new well-trained workers and training for management and incumbent workers
"I worked with CVTC when I was with PDM Bridge, and when I moved to another company, I continued to work with them," said Shirley Gutsch, human resources manager at PMI in Bloomer. "At PMI, we've had Critical Core Manufacturing Skills training, and expanded that into leadership training," she said. "Everyone in management has had the training and anyone we more into middle management takes it."
With over 155 programs offered both online and on-campus, Chippewa Valley Technical College delivers superior, progressive technical education which improves the lives of students, meets the workforce needs of the region, and strengthens the community. CVTC programs are designed with input of business and industry to prepare graduates for today's jobs, with 95 percent employed within six months of graduation and associate degree graduates earning an average annual salary of $46,816.