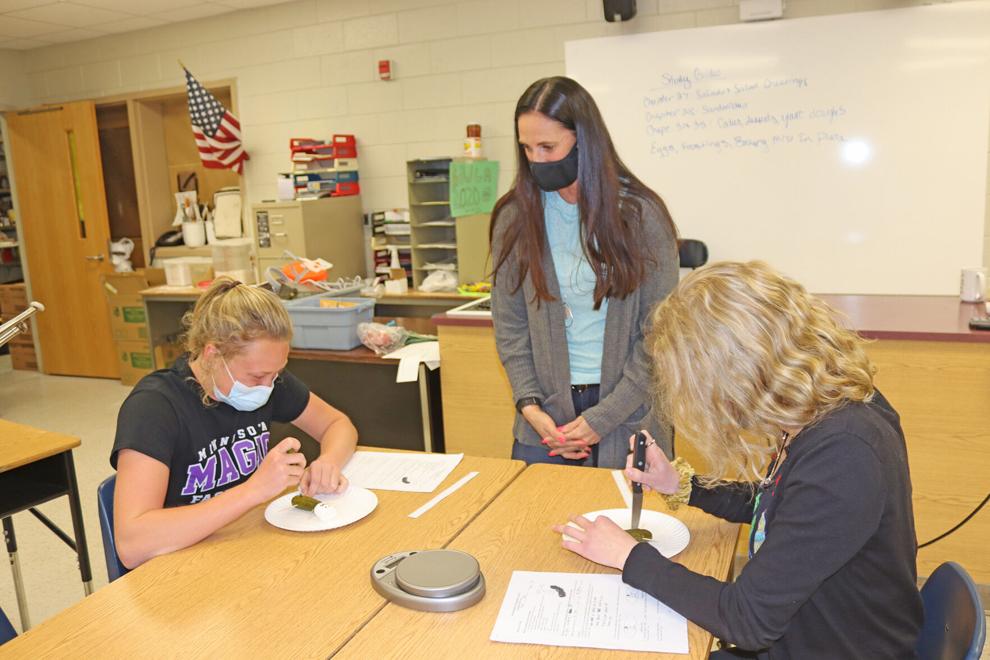 Bloomer High School Family and Consumer Science teacher, Charlene Kelley was a finalist for the 2021 Teacher of the Year Merit Award. One of the reasons for Kelley to be named as one of the top in the nation is due to her development of curriculum relating to food insecurities and poverty right here at our local high school. 
 During her early years in teaching Kelley got her first glimpse of the hardships of poverty when a student was embarrassed to tell her she was unable to call home due to an illness because there was no phone in the family home because of financial difficulties. This resonated with Kelley because she had made the assumption that students come to school with basic needs met; which is not always the case.
Kelley participated in an in-service at the Bloomer school district which was a poverty simulation and a food insecurity simulation at a Wisconsin Association of Family and Consumer Sciences Conference. Through these trainings she was able to find the path she needed to take to develop a curriculum to help with those sometimes unknown needs.
In the poverty simulation Bloomer staff had to make financial decisions on what bills to pay at a poverty-base income. Kelley said that she felt a struggle to decide what payments to make and which ones to skip. She felt more of a struggle with deciding how to get food and how to choose between quality and quantity.
Food insecurity is a lack of access to food while poverty can mean a lack of access to other resources. In the food insecurity simulation Kelley learned what can happen to people living in poverty but also to people living isolated in food deserts. 
 BHS English teacher, Vanessa Sieg who oversees the Hawk's Closet, a food pantry and clothes closet for students, inspired Kelley to really examine the classes she was teaching to see where she could teach and also mentor students who live in generational poverty to show them that there is a way out. Seig was having concerns on what types of food students were taking and that canned vegetables and meats remained on the shelves. 
In the Culinary Academy course, which was formally known as Foods I, Kelley teaches about standardized recipes using basic ingredients, teaching students to write with proper English rules so others can easily understand the directions. Students are not only taught the basics of cooking but also how to create meals with common foods. 
In many of the classes Kelley incorporates practical life skills that will help a student in their future to choose healthy food items with common preparation practices. She also tries to instill in her lessons that the work of the home is valuable. Kelley said, "I truly believe that home is the foundation of who we are."
Besides the food facet of Family and Consumer Sciences there is also the technical and career aspect. Kelley creates a foundation of skills and opportunities for students going into the restaurant industry at every level. 
Americans spend almost half of their budgeted dollar on eating out at restaurants compared to 25 percent in the 1950's. So the restaurant industry is only going to grow by leaps and bounds in the future.
BHS offers the National Restaurant Association's ServSafe curriculum in two of its culinary classes which allows students to obtain a ServSafe certification and two credits from CVTC. This puts students in the driver's seat to move easily into a managerial role at a restaurant. BHS offers several classes that earn students college credit upon successful completion.
Kelley noted that she is in no way doing this alone. Like the saying goes it takes a community to raise a child and that holds true as there is team effort at BHS. Offering these classes that give the students the tools they need to be successful in their household as well as on the job is because of the support Kelley has gotten from fellow teachers and the administration—Alyson Zwiefelhofer, Nancy Post, Lisa Warren, Vanessa Sieg and Chad Steinmetz. 
Steinmetz, Bloomer High School principal, said, "As evidenced by the awards and recognition that Mrs. Kelley has received, she has worked really hard to modernize our Family and Consumer Science curriculum and course offerings. Not only do our students have the opportunity to earn certifications and college credit, but they also engage in highly relevant learning activities and experiences. Along with Mrs.  Post, Mrs. Kelley teaches a Literacy Course that is valuable for all of our students, regardless of their career path after high school."
As mentioned, Post has been an element to Kelley's success by share teaching with her the Financial Literacy class which is required for all juniors or seniors to take to meet graduation requirements per the Bloomer School Board.
One of Kelley's favorite activities in the Financial Literacy is creating a blind taste test study on name brand versus generic snacks. The class then discusses the cost savings and whether or not it is worth saving money on that item. 
Students also learn about budgeting, balancing a check book, insurance and taxes in the class. The goal is to give students the skills and knowledge to succeed with money as they learn to live independently.
The impacts of the way family structures look and the overall fluctuation of the economy has a huge impact on the level of poverty and food insecurities we have. When schools were mandated to close in April 2020 many BHS high school students starting working 40 hours a week to help make ends meet at home. These students felt a sense of responsibility to help pay for some of their family's basic needs. The students that had taken these culinary and financial classes were able to put into practice the skills and knowledge they learned in the classroom to help give more financial stability in their family. 
 Georgia McManus, a 2021 BHS graduate, has taken all of the Family and Consumer Education classes during her four years in high school. Through her experience she feels prepared and well educated by knowing what types of foods to put in her body, cooking techniques as well as correct sanitization methods. Coming from a small town she said that she has not seen first hand the struggles of poverty, but is much more informed of ways to help those in need. Georgia said, "Financial Literacy I feel is the most important class as I learned about many financial situations like taxes and insurance which is nice to have a background in as I go out into the adult world." 
Family and Consumer Education classes have diversified over the years from learning to cook and sew to learning life long skills to help young adults lead a more healthy, happy and financially stable lifestyle.