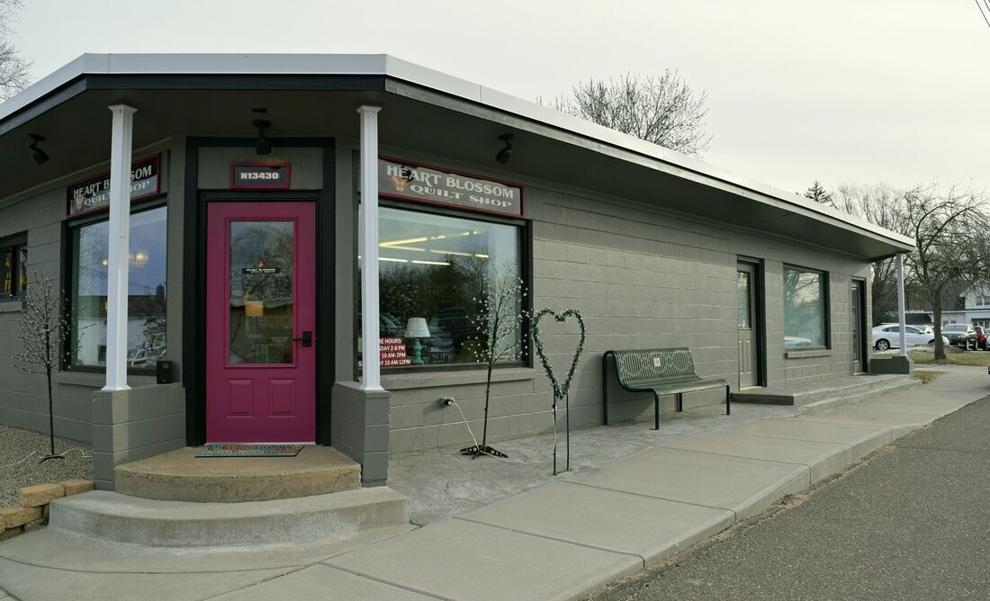 Quilting is more than just sewing and even more than creating usable art. Quilting is about getting together & helping each other, sharing life, cheering one another on through good times and bad.
My name is Karen and I started quilting when my sister-in-law, Jenny, was sick with cancer so I could spend time with her doing something she loved.  She made me learn to "press, not iron" before learning to sew & quilt.  When I graduated from the ironing board, we made a heart blossom wall hanging – Jenny's was pretty and mine was not, but we had a great time.
In 2012, I started with an idea about an extraordinary place in a tiny little town filled with laughter, charm, personal style & fabric…and opened up Heart Blossom Design Quilt Shop in downtown Sand Creek.  2021 marks our 9th year in business thanks to all of you!  We've grown a lot since then (we now have over 1,200 bolts of fabric!) but lots of things haven't changed.
We're unapologetically feminine, we adore color & take pride in being clever.  We think of our Heart Blossom family as a community of interesting souls living interesting lives & are so grateful that we are sharing our common bond of color, fabric, stitching & more.  My shop is known for its bright fabric colors & selection, hand embroidery and unique designs.
Although Jenny lost her battle with breast cancer, my love for her and for quilting lives on.  Did you know that 10% of the proceeds of Heart Blossom Design original pattern sales are donated to the Susan G. Komen Foundation?  Yes, a little pink can do a lot of good.
Thank you for being an inspiration on this journey and please visit us – even if you don't quilt – we'd love to see you.  We're the shop on the corner with the bright pink door; located at N13430 Co. Rd. I, Sand Creek, Wis. 54765.