Bloomer Agriculture Education Instructor /FFA Advisor DeWayne Fossum will be stepping down as the lead instructor at Bloomer High School after 29 years of dedicated service to Bloomer Schools. He will always be remembered as a great instructor and FFA Advisor. His dedication to his students along with his caring and challenging attitude has brought tremendous success to Bloomer.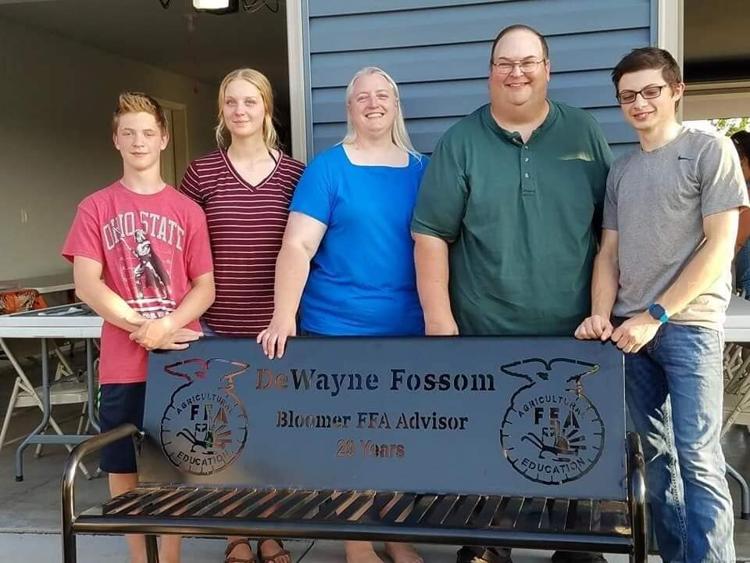 His story begins in 1991 when DeWayne student taught at Bloomer under the supervision of Ray Miller. Miller retired in June of 1991 and DeWayne was hired to replace Miller who had taught at Bloomer for 37 years.
DeWayne had agriculture education and the FFA in his blood his entire life as his father Richard a 1965 graduate of UW–River Falls did his student teaching at Bloomer, also under the supervision of Mr. Miller. Richard went on to teach for fifteen years at Brookwood, Wis., three years as a pastor at Eastman, Wis., and took over the position as the Ag Ed Instructor at Independence, Wis., serving in that capacity for seventeen years. Richard and his wife Violet raised three children DeWayne, Darla and Dawn. The Fossum family could be seen at FFA conventions, summer conferences, fairs and DeWayne was always tagging along with his father to FFA events throughout the state. DeWayne received many FFA honors at Independence, Valedictorian, Wisconsin and American FFA degrees and was selected to the FFA State Choir and performed at the National FFA Convention in the National FFA Choir.
After graduation from Independence DeWayne continued in his father's footsteps and entered at UW–River Falls majoring in agricultural education and computer science. In those four years he graduated with honors and was named the top Ag Ed student his senior year. He was selected to perform in the College Choir and traveled to Taiwan. One of DeWayne's many accomplishments at River Falls was being selected as the student chair of the Agriculture Technology contest. His vast knowledge of agriculture and computer skills were keys to the tremendous success of this competition.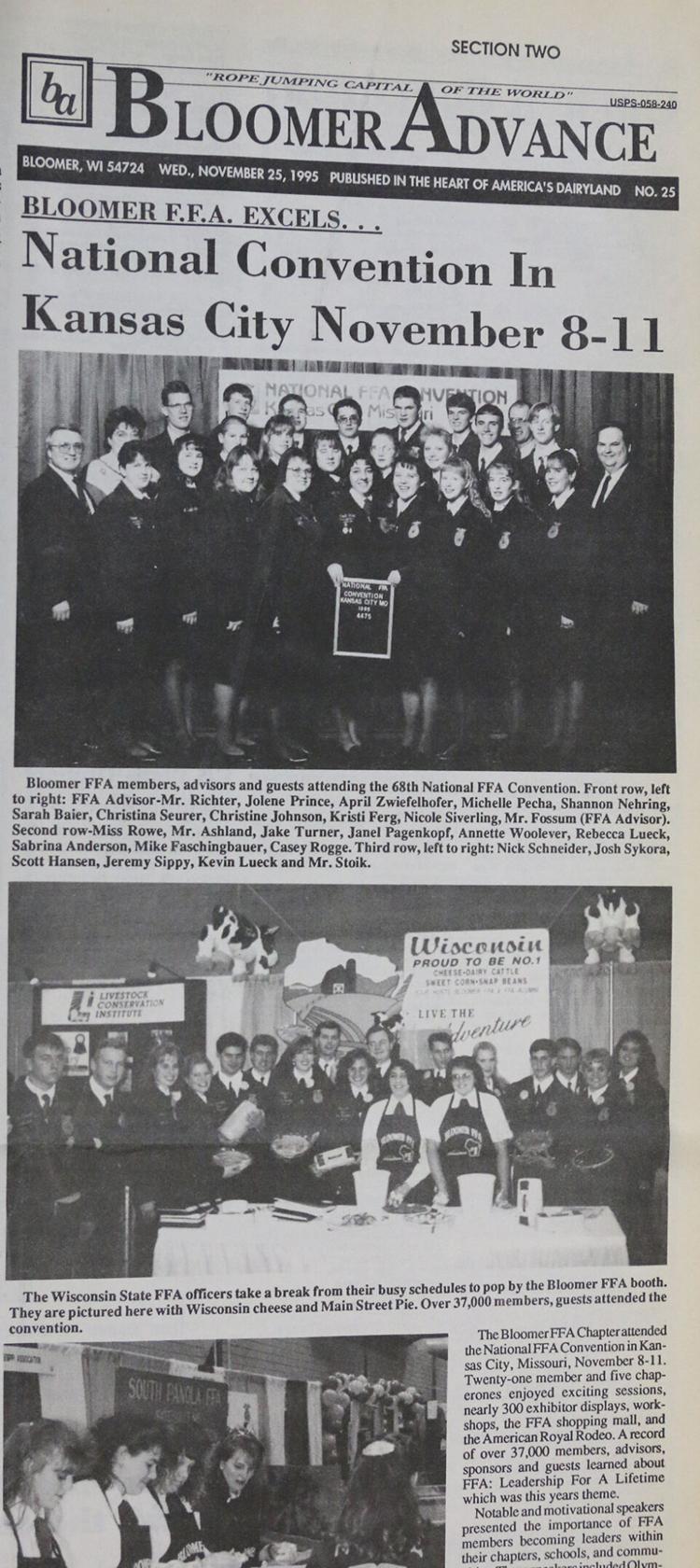 The Bloomer agriculture program continues to be one of the top in the state thanks to the guidance and direction of DeWayne Fossum. In his tenure hundreds of students have earned Wisconsin and American FFA degrees, Proficiency Awards with four students serving as State FFA Officers. The Bloomer agriculture curriculum was enhanced to include Wisconsin fast plants, taxidermy, commodity marketing, tissue culture, and with the purchase of a new greenhouse allowing students to enhance their skills in plants and flower growth and arrangement. The Bloomer agriculture program and FFA were honored in 1995 as the top program in the state of Wisconsin and asked to showcase Wisconsin at the "Hall of States" exhibit at the National FFA Convention in Kansas City, Mo. Bloomer members served 420 lbs. of Wisconsin cheese and 150 lbs. of sausage to members and guests at the convention, attended by 37,000 people. In 1996 DeWayne was recognized as the Outstanding Young Member by Region 3 of the National Vocational Agriculture Teachers Association.
Each year the Bloomer FFA organizes and takes 20-30 members to the National FFA Convention and the Bloomer FFA has been responsible for registration at the Wisconsin FFA Convention.
One of the top events locally has been the annual fruit sale. This huge event raises funds for FFA activities and allows students the opportunity to learn salesmanship and marketing. DeWayne has been instrumental in the success of these valuable FFA events.
In 2001, the Bloomer FFA/FFA Alumni embarked on a new venture with the FFA Dairy Day golf outing. This golf event raises funds for the Alumni to initially purchase a milk vending machine for the school. Since then it has raised funds for a new greenhouse, sponsorships to Washington Leadership Conferences, scholarships, support of Tour de Farm bike ride and support of people in need. DeWayne's organization and computer skills make the FFA Dairy Day golf outing possible.
DeWayne has been and will always be a teacher. Chippewa County tractor safety program, Northern Wisconsin State Fair and the Bloomer Community Fair will always remember him as their voice and spokesman. Again, thanks to his guidance, those programs have served thousands of youth throughout Wisconsin.
His accomplishments are many but for an Agriculture/FFA Advisor the one that means so much is receiving the Honorary American FFA Degree at the 2018 National FFA Convention. This is the highest honor the FFA can bestow on a person. In 2018 DeWayne and Julia, his wife, were also recognized for their support of the Bloomer Community and served as "Parade Marshals" for the Community Parade.
The list of honors and recognitions are many for Mr. Fossum, but words from his peers probably speak volumes to what he has meant to the students at Bloomer, the Bloomer community, Chippewa County and Wisconsin FFA.
Bob Bosold, a farm reporter for WAXX Radio, said "I've always admired DeWayne for his calm, always under control demeanor. To me he had the perfect attitude to teach agriculture, which is really a year round job. I never saw him lose control of his students whether it was in the classroom, at the State FFA Convention or at the fairs. His students enjoyed being around him. In all my years working with the FFA, DeWayne was always one of the instructors who could get his students to tell the story of the Bloomer FFA effectively and interestingly. I've been doing a Saturday morning FFA on the air program for over 40 years at WAXX and I think DeWayne has made more appearances than anyone else. Bloomer agriculture students and the FFA are losing a valuable resource as DeWayne retires."
Chad Steinmetz, Bloomer High School Principal writes, "It has been an honor and pleasure to work closely with Mr. Fossum for the past 18 years. As a Bloomer High School graduate myself his retirement brings about added emotion for me because he was the only teacher still on staff that I had as a teacher. I had a great deal of respect for Mr. Fossum as a student and that level of respect only grew working with him as a colleague and friend. It is nearly impossible to describe the impact he has had on thousands of students as an agriculture teacher and FFA Advisor for the last three decades. Mr. Fossum is a role model and he set a great example of how to build strong relationships and support ALL students in their learning experience. For 29 years he displayed high levels of compassion, humility, and integrity and that influenced many students, but also our staff and community. Mr. Fossum is not only respected for his many years of experience, but more importantly, for how he treats others."
Brenda Scheil, agriculture instructor and FFA Advisor from New Auburn, said "DeWayne Fossum is an educator who has always highly valued encouraging and influencing students in positive ways. He has made lasting impacts at local, state and national levels through his involvement."
Bloomer co-worker Darren Swartz wrote, "DeWayne truly has a heart of gold and will put the needs of students and others before his own and it reflected in the classroom. DeWayne always created a learning environment where students felt welcome and comfortable. His presence and wisdom at Bloomer High School will be missed."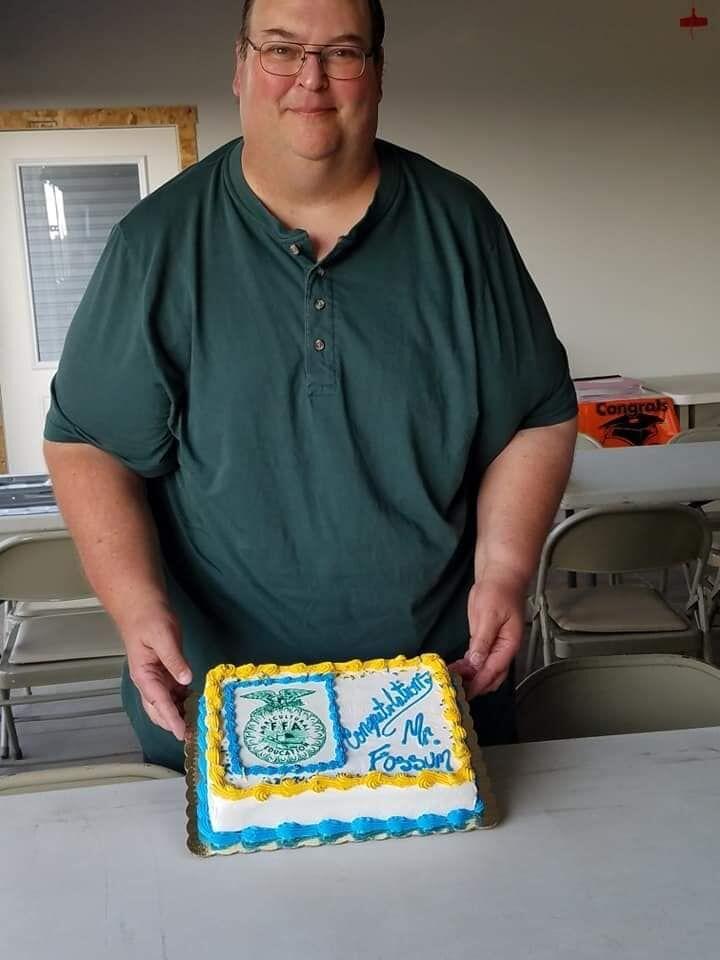 Jackie Johnson, who has worked with Mr. Fossum for many years in many different capacities—most recently as a co-worker in the Bloomer agriculture department—said, "I appreciate all DeWayne has taught me over the years, his wisdom he shared with me and continues to share, and the friendship I have with this truly amazing teacher. Thank you for everything you have done for Bloomer, the schools, the students, myself and family. DeWayne is truly a very gifted educator"
"We all wish Mr. Fossum the very best as he continues his journey in retirement and cannot thank him enough for all he has done," said Merle Richter, retired Bloomer ag instructor and former co-worker of DeWayne's.