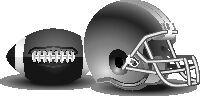 The Bloomer Advance annual football contest has come to an end. In this week's paper readers will find the winners of Week 21 and the big college games contest.
Early on in the season the Bloomer Advance football contest features high school, college and professional games. As the season goes on and the high school and college schedules finish up the contest features only professional games.
This year the best score anyone achieved was in week three when Miles Seibel had zero wrong (and now tie breaker needed). The very next week, week four, Brady Zwiefelhofer won with the worst winning score of the year when he had six wrong and no tie breaker needed.
The average winning score was three wrong. A tie breaker was needed in 10 out of the 21 weeks. Six wrong was good enough to win the contest one week, four wrong won seven times, three wrong won seven times, two wrong one three times, one wrong won twice and zero wrong won once.
On average, 28.5 people played the weekly football contest. Week 18 saw the most players with 34 entries and week nine saw the fewest with only 23 players.
In this year's big college games contest the winner, Marvin L. Zwiefelhofer, had 13 wrong out of 42 games and no tie breaker needed. Twenty-five people played the big college contest.
The Bloomer Advance Football contest was sponsored by the following businesses: Northwest Coin, Suds & Duds Laundromat, Barlow Insurance Agency, Bohl & Proulx Plumbing, Dairy State Bank, Bloomer Auto Supply (NAPA), Southworth Chevrolet, Buick, GMC, Charter Next Generation, Security Bank, Richelle J. Seibel – Adventure North Realty, Toycen Ford, SS Interiors (Bloomer Flooring & Decor), Gilberts of Sand Creek, Tim Reedy – State Farm, Lotts-A-Meat Meatmarket, Shadick's Price Rite, C-Store, Sporting Goods & Hardware, and Bloomer Advance. If you enjoy playing this contest—or if you just enjoy reading the winners every week—please tell these businesses, "Thank You for supporting the Bloomer Advance Football Contest!"
Thank you to everyone who entered the football contest this year and good luck next year!