A Barron High School graduate whose parents live near Ridgeland will be ordained as a priest in the Roman Catholic Church at 10 a.m. this Saturday, June 26, 2021, at a private Mass at St. Joseph the Workman Cathedral in La Crosse. He attended St. John the Baptist Parish in Cooks Valley.
The Rev. Eric Mashak is the son of Jeff and Sonia Mashak, former parishioners at St. Joseph Catholic Church in Barron.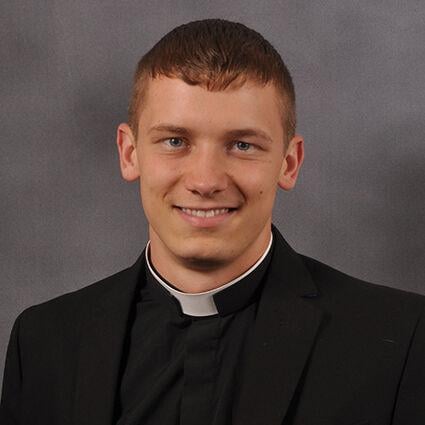 He will be one of three Catholic deacons to be ordained June 26 by William Patrick Callahan, bishop of the Diocese of La Crosse. After ordination, Mashak will serve as an associate pastor at St. Bronislava Parish in Plover, Wis., near Stevens Point.
Although the ordination mass is private, it will be livestreamed at www.diolc.org/live/
Barron area resident Ann Stephens, of the Cupboard & Closet store, Barron, said Eric and his family were active at St. Joseph Parish, and that Eric was an altar server at Barron, before the family switched to a Catholic church in Bloomer.
One of 13 children, Mashak attended St. John the Baptist Parish, 4540 Wisconsin Hwy. 40, in Cooks Valley, Wis., near Bloomer, according to Jack Felsheim, director of the office for communications and public relations for the Diocese of La Crosse.
Father Victor Feltes, parish priest at St. John the Baptist, said that while Mashak was already in seminary when he came to Bloomer he has been following Mashak's progress with great interest.
As a resident from the northern part of the diocese, "Deacon Mashak enjoys time outdoors where he likes to hunt and fish," a diocesan press release added. "He is looking forward to his first assignment where he can share the deep unconditional love God has given to him."
The release also said Mashak studied at the University of Mary in Bismarck, N.D., the Immaculate Heart of Mary Seminary, Winona, Minn., and the Pontifical North American College in Rome.
The "discernment process," the Catholic church's definition for the decision to study for the priesthood, is one that is not taken lightly, and which involves much time and thought.
According to Felsheim, the "discernment process can take many shapes, and God will call men at various times in their lives."
He said the diocese has a "director of formation who helps men along the way. There are discernment events which serve to introduce men to various aspects of the priesthood.
Those received into the program "will have nine years of study before ordination," Felsheim added. "First, (there is a) year of focused discernment, before four years of college and then four years of theological studies."