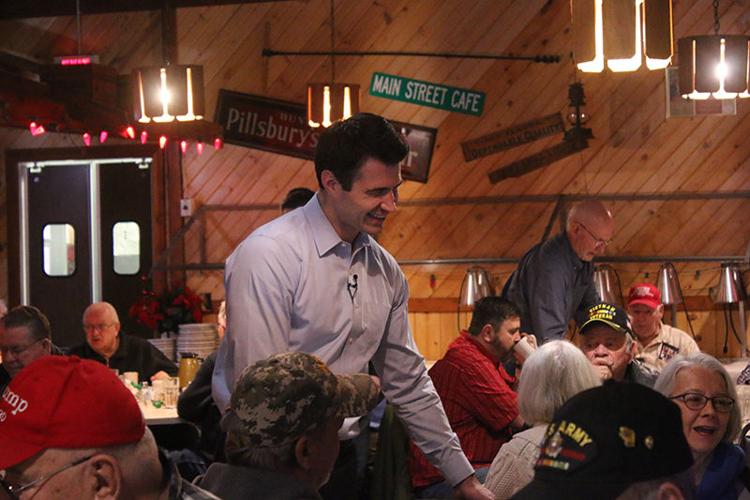 Republican candidate Jason Church, running to represent Wisconsin's 7th Congressional District in the U.S. House of Representatives, made a campaign stop at Main Street Café in Bloomer on Thursday, Jan. 30 and at the Blue Hills Sportsmen's Club in rural Rice Lake on Saturday, Feb. 1.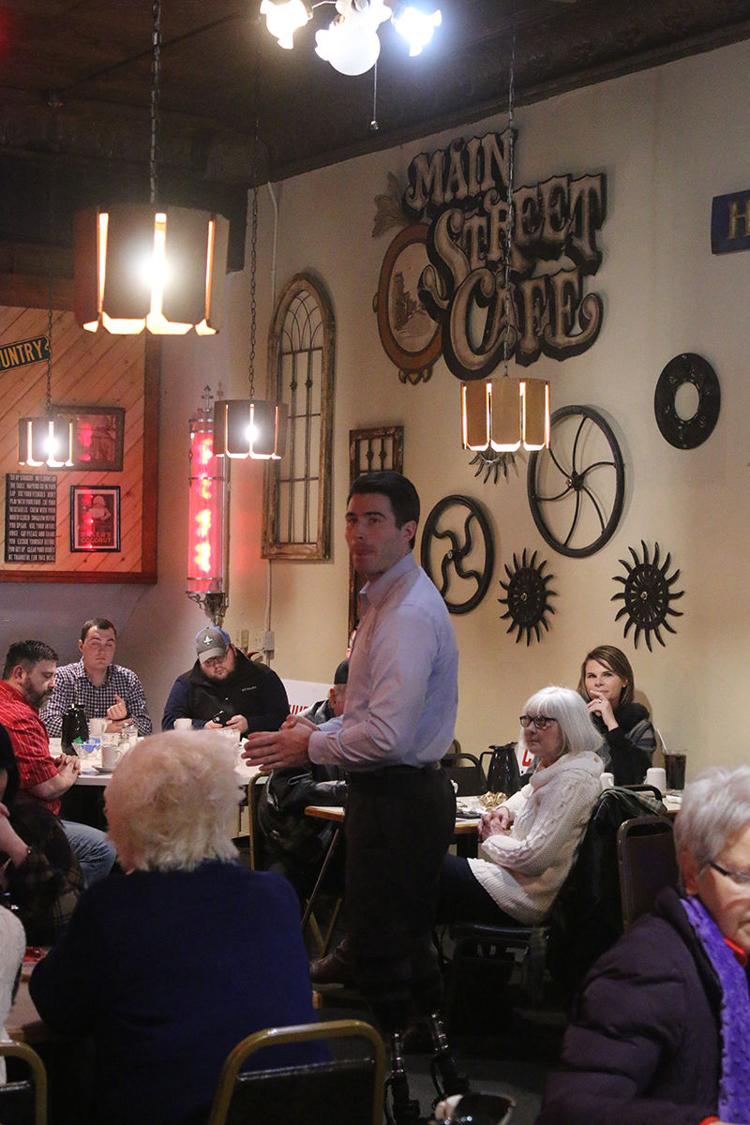 At both meetings, he talked about his military service, the improvised explosive device explosion that took his legs, how he got into politics and what he wanted to accomplish if elected. He also took a number of questions from those in attendance at both events.
Originally from Menomonie, Church graduated from Menomonie High School in 2007. He attended University of La Crosse and was a Reserve Officer Training Program cadet, according to his campaign website. After graduating with a degree in political science, he was commissioned as a second lieutenant in the U.S. Army.
Church said he was leading his platoon on a patrol in Panjwai District in Afghanistan on Aug. 23, 2012, when an IED blew up. It took his legs off. His soldiers worked to treat him and had him medivacked. Church said he had more than 20 surgeries at Walter Reed National Military Medical Center in Bethesda, Md.
Church was promoted to captain and was medically retired from the Army. Later, he earned a Master of Arts in security studies at School of Foreign Service at Georgetown University and then a Juris Doctor from the Wisconsin Law School, according to his website.
U.S. Sen. Ron Johnson, R-Wisconsin, visited him, and after talking with him for about 45 minutes, Johnson invited him to work with him on Capitol Hill.
"Even though the Taliban took my legs, they didn't extinguish my desire to serve," he told the audiences on Thursday and Saturday. Calls asking him to run for Duffy's former seat were not unexpected after Duffy announced his retirement last year, he said. But it was still a tough, long-thought decision for him and his fiancée, Bela Barbosa. The couple now live in Hudson.
Speaking on Saturday about his platform, Church said he thought the "Green New Deal," proposed by Rep. Alexandria Ocasio-Cortez, D-New York, and Sen. Edward Markey D-Mass., would not help Northwest Wisconsin.
Viewing office as a form of service, Church supported term limits and said he did not want to serve for more than four terms, or eight years. Serving longer than that leads to bad compromises, he said.
Church said he was an ardent supporter of the Second Amendment, which brought applause from the audience. He said he opposed background checks and red flag laws as they undermined the intent of the Second Amendment to defend against tyranny.
Church said he felt the Democratic Party was trying to remove President Donald Trump and invalidate his presidency. From early on, Church has been a staunch supporter of Trump.
As a newcomer, he's heard opponents say he "lacks political experience." But Church said he has gained experience through his military service, where he learned how his decisions put his life and others' lives at risk and had wide-ranging consequences. The sense of service, duty and responsibility applied to elected office, he said.
Taking questions, a man asked about Foreign Intelligence Surveillance Court. Church said he was skeptical of the federal government and believed the purpose of it was to maintain security and interstate commerce. Any legislation like that should be limited in scope, he said.
An audience member asked about term limits, and the benefits that Congress members receive. Church responded he wanted to find ways to reduce incentives to make Congress a career.
He added that a convention of states could call for term limits, but he felt a more realistic way to pursue a measure would be to introduce a bill and then vote for it.
A resident asked about the rising costs of health care, child care and infrastructure.
Church said he thought the Affordable Care Act drove up healthcare costs and that the Veterans Administration was proof that socialized health care does not work. Instead the solution begins with cost transparency, he said, and less regulation so the free market could dictate prices.
As for child care, the federal government should not be involved in such matters, Church said. Any such laws would be too broad to work everywhere.
Without citing any specific examples, Church said that infrastructure was falling apart, but would fight for what Northwest Wisconsin needs.
Another question was asked about foreign policy in the Middle East: should the U.S. stay or pull troops out of the region?
Church agreed with Trump's assessment that the North Atlantic Treaty Organization took advantage of the U.S.
Post-9/11, the U.S. tried to nation-build in areas of Afghanistan that are historically governed by tribes and regional governments. He didn't think nation-building was possible there, but terrorists could be kept at bay through special forces operations and drone strikes in the region.
Asked about maintaining a presence in the Middle East, Church said troop levels are a concern here, but he agreed with Trump in that China was a larger geopolitical threat.
Also running as a Republican for the 7th Congressional District is current state Rep. Tom Tiffany, R-Hazelhurst. Questions arose about the policy differences of Church and Tiffany and why Duffy and former Gov. Scott Walker had endorsed Tiffany.
Church said he and Tiffany were at different places and that he'd be more aggressive and had more intent to do the job. He had received endorsements from veterans serving in Congress who share his conservative values. While he had reached out to Duffy and not heard back, he said that Walker had cited 10 years of working with Tiffany in the state Legislature as a reason for Walker's endorsement of Tiffany.
Another audience member asked about what they said were the "illegal actions" of Democrats. To that, Church talked about illegal immigration and said that it was incentivized and benefited the Democratic party.
Asked about gun laws, Church said the U.S. Senate had been confirming more "constitutionalist judges."
Another asked if he'd support a nationwide concealed carry law. Church said he'd rather see states offer reciprocity with concealed carry gun laws. Universal carry should be decided at the state level, rather than at the federal level.
Along that theme, a question asked about his thoughts on states' rights. Church replied that the federal government had been gaining power over the last 100 years. An example of that, Church said, was the federal government abusing the Commerce Clause of the U.S. Constitution and using it for gun control laws. He wanted to see that clause kept limited via the courts.
Campaign finance reports have shown that Tiffany had raised more than $250,000 in the month after he announced his campaign. Church was asked about his thoughts on that and if his fundrasing had impacted his time to campaign.
Church said that Tiffany, being in politics longer, likely had a larger donor base to draw from. "For me, while it is a part of campaigning, it has not gotten me away from events like this and meeting with the people and our very large district," Church said.
Over the years, district boundaries have been redrawn in Wisconsin and questions have been raised over gerrymandering. Church felt the topic of gerrymandering is an issue that should be left up to state legislatures and that any district drawing process would have some bias inherent in it.
Sen. Johnson, like Church, came from outside of politics. "He showed me what it is like to bring outside leadership into Washington [D.C.]," Church said. He said he learned how frustrating politics can be, but also how legislation can still get passed by setting priorities and finding supporters and cosponsors in Congress.
Asked about the national debt, Church said it was caused by out-of-control spending. There is fraud, waste and abuse and it can be solved by electing people who don't want to stay office, he added. That is something that both Republicans and Democrats have to work on, but he felt Democrats were playing politics rather than governing, he said.
Church wanted to serve in the military, but after he lost his legs, he could no longer serve as an infantry officer. He was asked about the challenges veterans face as they return to civilian life and if he had any advice.
"When you come back, you want to find that purpose again, you want to find what drove us into the service, again," Church said. "Getting involved in your local communities is very important and I would encourage every veteran to do that."
Church and Tiffany, his opponent in the Republican primary, have very similar political platforms. But it is his military service that sets him apart, Church said.
"I view this as a duty and something that should be done—not as a career, not trying to move up the ladder from the state assembly to the state senate to congress," Church said. "I don't want to make it a career and I think that is the difference between me and my opponent."
Asked about the Senate Impeachment Trial and if it would have a bearing on this special election. It has distracted from the race, but Church thought it proved why the state voted for Trump in 2016.
"At the end of the day, Democrats have done everything they can to remove Trump from office and it is just infuriating us up here," he said. Trump was an outsider from Washington D.C. and voters supported that.
On the campaign trail and in radio ads, Church has talked about fighting against "the swamp," using a term touted by Trump as well. He was asked how he would keep that promise.
"One, is coming back to your constituency, coming back to northern Wisconsin. Hearing the problems that people have and bringing that to Washington, [D.C.]," he said. Second, he viewed it as sacrifice and duty. And third, he set personal term limits. He had no desire to serve more than four terms as a representative. He didn't see himself moving to another office afterward either.
"The biggest problem we have is people trying to move up the ladder," Church said.
He was asked what he meant by the swamp. To Church, it meant the entrenched bureaucracy and the status quo. It was taking power away from states and consolidating it in the federal government, he said.
If unsuccessful in this special election, Church said he would not run again in the regular, fall election.
The special election primary is Tuesday, Feb. 18.
In the Republican primary are Church, Tiffany and Michael Opela Sr. (write-in candidate). In the Democratic primary are Lawrence Dale and Tricia Zunker.
The special election is May 12.