Republican candidate Tom Tiffany, running to represent Wisconsin's 7th Congressional District in the U.S. House of Representatives, made a visit to the Bloomer Advance newspaper office while on the campaign trail in Bloomer on Friday, Feb. 7.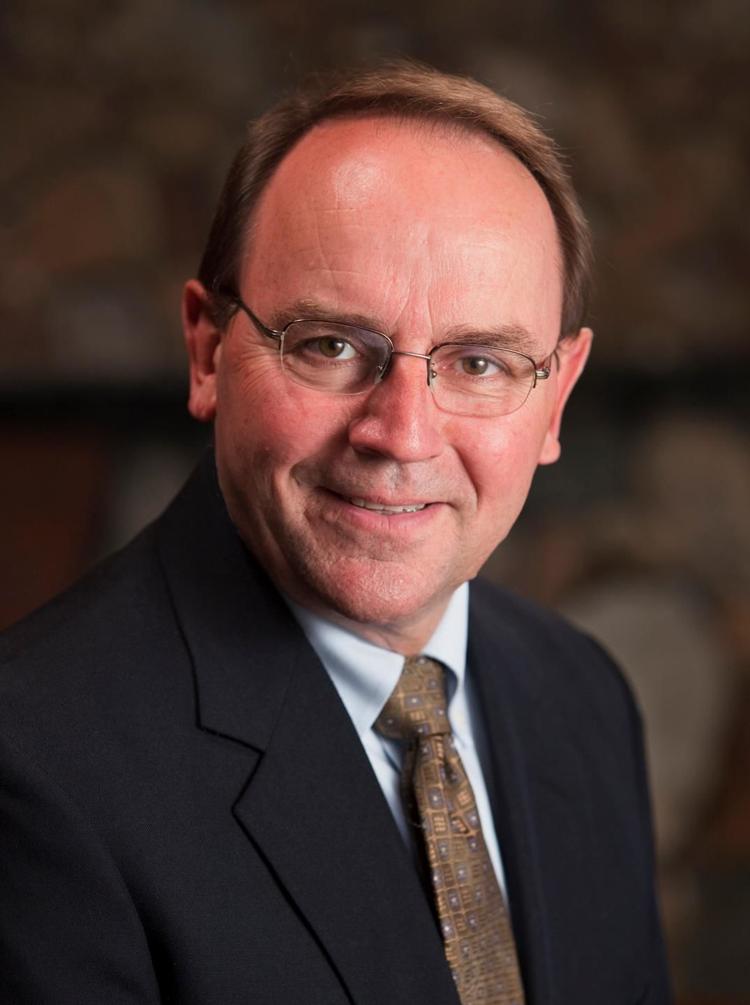 Tiffany said that he likes to visit the local communities in his district and meet people, go to the local businesses and visit with the business people and see what the important industries are in the community.
He went on to say, "... but I also like to really come in and talk to the people that do newspaper and radio, the local media, because you guys really have a pulse for the community.
"So, I'm a state senator in the 12th and there's all kinds of small communities like this. I subscribe to like seven local newspapers and I read them," said Tiffany, "I don't mean I read them front to back, but I'm looking through them, and I just think local newspapers are just such an important part of the local community."
Tiffany then went on to explain a little about who he is. He grew up near Elmwood on a dairy farm with five brothers and two sisters which, he said, taught him to "get up early and work hard, and it was a great lesson in life from the very beginning."
He attended the University of Wisconsin–River Falls, where he completed a degree in agricultural economics. He said he used his agricultural degree for seven years in southern Minnesota.
He moved to the Minocqua area, where he currently lives, about 30 years ago. As a small business owner, Tiffany owned and operated Wilderness Cruises for 20 years. He has also worked as a dam tender for 25 years on the Willow Flowage. He is a former town supervisor in the Town of Little Rice and served on the Oneida County Economic Development Board of Directors.
Most recently, Tiffany served one term in the State Assembly and is currently serving his second term as a State Senator for the 12th District.
He and his wife, Chris, have three daughters, two in college and one in high school.
Tiffany said if he had to put one word on why he's running it would be for "freedom."
"When I see what's happening in Washington, D.C. with the talk of socialism and giving greater power to our government over our daily lives, I don't believe that that's the best way to go," said Tiffany. "And, I'm out there working everyday to defend people's freedoms. That's what I would do in Washington, D.C."
"I want my daughters to have the same opportunities that me and my siblings had growing up in Wisconsin and in America," said Tiffany.
When asked what distinguishes him from his opponent, Jason Church, in the Republican primary Tiffany said, "While my opponent has talked about reforming the federal government, I've actually done it at the state level.
"I've been a reformer in the eight years that I've been in the state senate in Madison," said Tiffany, "and really have helped turn Wisconsin around."
Citing examples, Tiffany said, "When I came into the legislature Wisconsin had a $3.6 billion deficit, that deficit's gone and we now have the largest rainy day fund in the history of the state of Wisconsin. Also, unemployment was almost 10 percent back then and now if you want a good job in Wisconsin you can have it. We've got a lot of good jobs and it's because we've had a growing, thriving economy. And part of that is because we've gotten state government out of people's way so they've been able to prosper.
"I would take that same reform attitude to Washington, D.C.," said Tiffany.
He said another difference between him and his opponent is that his endorsements come from Wisconsin.
"Both Governor Walker and Congressman Duffy have endorsed me," said Tiffany, "because they know I'm tough enough to take on Washington, D.C."
He also said that he has been endorsed by the National Rifle Association and attributed that to having helped pass a conceal carry law in Wisconsin. And, he said he has been endorsed by the Wisconsin Right to Life.
The Swamp
When asked what he means by the "swamp" in Washington, D.C., he said "draining the swamp" as reining in bureaucracy that regulates daily life. He cited a rule ordering a $13 million smokestack be added at a Rhinelander paper mill that had no effect on emissions.
He said that regulations like that drive companies out of America.
If elected, Tiffany said, he would introduce the REINS Act which would require a vote of congress to implement new laws that cost industries more than a certain dollar amount. He said he would propose over $100 million.
"It goes back to the fundamentals of how our country should work, the bureaucracy should be implementing the laws that congress passes," said Tiffany. "We've got it backwards currently in many situations where the bureaucracy is creating laws on their own and/or modifying laws on their own without a vote of congress. That's not how it should work."
Term Limits
Tiffany said that he supports term limits.
"The founders of our country expected people to be citizen legislators and that's what I've been, a citizen legislstor," said Tiffany, "My background is as a small business owner..., ...I've worked at, owned and operated small businesses my entire adult life. That's how I know we have too many laws, too many regulations, the taxes have been too high because I've seen the impact of government on my business and my friends and neighbors. I have taken that to Madison. I am a proven conservative and I will be the same out in Washington, D.C." Tiffany said.
He also said that he believed he could make the transition from Congressman Duffy to a new representative for the 7th Congressional District a seamless one.
Tiffany will face Jason Church in the Republican primary election, Tuesday, Feb. 18, with the winner advancing to a special election to fill the currently vacant 7th Congressional District seat in Congress on Tuesday, May 12.